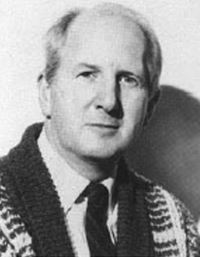 Carey Clarke
Born in Donegal in 1936, Carey Clarke studied at the N.C.A.D. where he has been teaching full time since 1968. In 1969 he studied further at the Salzburg Academy of Fine Art. He has exhibited widely in Ireland and has had four solo exhibitions including one in Arizona (1972).
He has won several awards and in 1988 had commissions from Telecom Eireann and An Post. Carev Clarke's work is to be found in collections such as those of Aer Lingus, Allied Irish Banks, RTE, and Telecom Eireann.
In 1980 he was elected a member of the Royal Hibernian Academy.
---
The artist comments on a watercolour painting 'An Aspect of Donegal'…………….
"I paint and dravv in an attempt to satisfy an inner compulsion that drives me relentlessly \Nith the desire to record a particular image and make it my own. My work is clearly realistic. Nevertheless I sometimes transcend this obsessiveness with realism and create the occasional image that is imbued with lyrical feeling. I would like to be able to do this all the time.
When I 'was asked to contribute a work for the exhibition A SPECIAL PLACE I couldn't decide exactly what I wanted to do. There are so many places that appeal to me that no one place in particular stood out in my mind. Upon reflection I began to realise that I wanted to say something about the county where I grew up, that is Co. Donegal, and what particular aspect seemed to me most apt in expressing the idea of Donegal. Donegal with its big skies and changeable weather, its mountains, rivers and lakes. This richly diverse landscape of fields and woods, of bogland, turf and heather. I wanted to try to convey something of the particular rural essence of the place.
What I have chosen to paint is just a few fields with some farm houses on a hill and some sheep grazing. It is the kind of place that I have walked through in search of birds' nests, walked the dogs, chased rabbits. The kind of place over vvhich the lark sings, the curlew is seen and the corncrake heard. Where there is bracken and rushes and whin, and in the ditches hazel, hawthorn and ash. The kind of place where you can look for wild flowers and pick blackberries to your heart's content. The kind of place you could drive past in car and never even notice."