The Kenny Gallery - Shipping Information
The Kenny Gallery has been shipping paintings all over the world since the gallery was first opened by Des and Maureen Kenny, over 40 years ago. And with this experience, you can count on your painting reaching you in perfect condition. And it is not just paintings purchased from The Kenny Gallery, we can also ship privately owned paintings if you wish to them safely and securely nationally and internationally.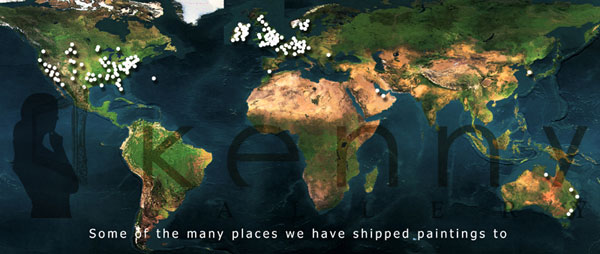 The Cost
The cost of shipping paintings worldwide can vary, depending upon the size, weight and destination of the parcel. We will contact you before sending the parcel to inform you of the cost. If you are purchasing paintings from outside of the EU, the VAT that is reduced from the cost of the painting is normally enough to cover the shipment of most artworks.
How Your Painting Will Be Wrapped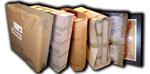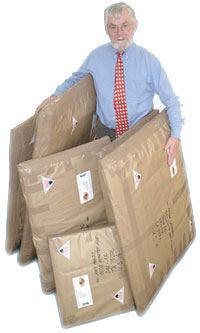 The Kenny Gallery go to every length to ensure that your painting will be delivered to you safely and on time. All paintings will be wrapped in layers of bubble wrap, corrugated cardboard and hardboard. All of the corners are reinforced for extra protection. Glass will be removed from any paintings that are being shipped internationally, and it will be replaced with shatter proof Perspex or Plexiglas. This is to ensure that the artwork is not seriously damaged in transit by broken glass. If you wish to frame the artwork yourself, we can ship the painting without the frame with extra packaging to compensate. All packaging used is made from 100% recycled materials.
Shipping Method
All parcels within Ireland will be sent by courier and will be delivered by the following day. All U.K. and European orders are sent by registered airmail and normally take between four to ten days to arrive. All packages for the U.S. and Canada are sent by freight every week and expected delivery times can vary between 3 - 5 weeks depending on location. Final delivery is carried out by the company UPS.
Customer Assistance
If a problem does arise during the delivery of your painting, The Kenny Gallery will do everything we can to rectify the situation. All paintings purchased and shipped from The Kenny Gallery are fully insured against damage in transit. If you do have any questions, please get in touch and we will be happy to help.
Contact us by email art@kennys.ie or by telephone +353 91 534760

Monday - Saturday 9.30am - 6.00pm .