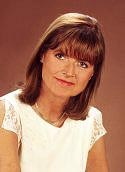 Gena Lynam
Gena Lynam was born in Dublin in 1951. From an early age she enjoyed painting, and when her family went on their annual holidays to Roundstone, Co. Galway, starting in the fifties, she remembers watching Belfast artists George Campbell and Gerard Dillon painting there.
In 1963 she attended a Children's Art Workshop at the National Gallery in Dublin, run by George Campbell, who gave her work his official seal of approval. She met Campbell again during the mid-sixties, where he still painted in Roundstone. She would spend hours watching him paint and he encouraged her to experiment with her first oil paints during her teenage years.
Her own style had developed by the early seventies, when she painted constantly, selling her work in Oughterard, Co. Galway, where her family lived at that time. However, marriage and small children put a halt to her painting until the mid-nineties.
In 1996 Gena graduated with a Diploma in Fine and Decorative Arts from the Institute of Professional Auctioneers and Valuers in Dublin. The following year she graduated with a Diploma in The History of European Painting from Trinity College, Dublin. Her thesis on the Northern Ireland painter Daniel O'Neill (1920-1974) was published in The Irish Arts Review Yearbook 1999.
During these years she also attended painting classes at The Donnybrook Art Studio and with the encouragement of her teacher, Emma Walton, Gena decided to have her own studio built at home. In the Summer of 2000 she began painting full-time, using oils, water-colours and pastels. She draws her inspiration from sources such as the rugged land and seascapes of the West and South of Ireland, interpreting their romantic nature with her own unique view. Her impressionistic flower studies are drawn from various aspects of her own garden and from the wild meadows close to the shores of the Atlantic.
Gena's work is widely shown in major galleries in the West and the South of Ireland and also in Dublin. Her work is also held in many private collections around the world. Gena is a Member of the Artists Association of Ireland.
Exhibitions:
| | |
| --- | --- |
| June 2005: | People's Art 2005, St. Stephens Green, Dublin 2. |
| Apr 2005: | Spring Art Exhibition, Beaufield Mews Gallery, Stillorgan, Co. Dublin. |
| Feb 2005: | Central Remedial Clinic Art Exhibition, Clontarf, Dublin 3. |
| Dec 2004: | Christmas Group Show, The Lavit Gallery, 5 Father Mathew Street, Cork. |
| Nov 2004: | Group Show, Kenny's Art Gallery, High Street, Galway. |
| | Christmas Art Exhibition, Beaufield Mews Art Gallery, Stillorgan, Co. Dublin. |
| Oct 2004: | Festival of Arts, Balbriggan, Co. Dublin. |
| Sept 2004: | Clifden Arts Festival, Clifden, Co. Galway. |
| June 2004: | People's Art 2004, St. Stephen's Green, Dublin 2. |
| Dec 2003: | Group Show, The Nunnery, St. Brigid's Road, Portumna, Co Galway. |
In association with Blue Leaf Gallery Pembroke.
| | |
| --- | --- |
| Dec 2003: | Group Show, The Lavit Gallery, 5 Father Mathew Street, Cork. |
| | Group Show, Kenny's Art Gallery, High Street, Galway. |
| | Group Show, Blue Leaf Gallery Pembroke, 4a Pembroke Street Lr., Dublin 2. |
| Nov 2003: | Solo Exhibition, Artworks, Parkview 2122, Johannesburg, South Africa. |
| Oct 2003: | Festival of Arts, Balbriggan, Co. Dublin. |
| Sept 2003: | People's Art 2003, St. Stephen's Green, Dublin 2. |
| | Clifden Arts Festival, Clifden, Co. Galway. |
| Dec 2002: | Group Exhibition, The Lavit Gallery, 5 Father Mathew Street, Cork. |
| | Group Exhibition, Kenny's Art Gallery, High Street, Galway. |
| July 2001: | Landscape Traditional, The Lavit Gallery, 5 Father Mathew Street, Cork. |
| | People's Art 2001, St. Stephen's Green, Dublin 2. |
| Dec 2000: | Ben Smyth Memorial Exhibition, Temple Bar Gallery, Dublin 2. |