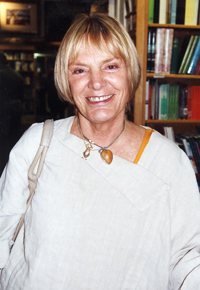 Pauline Bewick RHA Aosdána : A Life in Painting
Pauline Bewick was born on 4 September 1935 in Northumbria, England. The formative influence in her life was her mother, 'Harry', a creative, unconventional character. Having run away from her husband and the Bewick family, Harry chanced on meeting Pat Newling, a Kerry woman running a hotel in Letchworth. She told Harry of her orphaned niece and nephew and Harry offered that she would move to Kerry and foster the two children, Lucy and Michael. So started the journey to Ireland which was to shape Pauline Bewick's life in such a distinctive way. "Harry believed in living in the present and throwing the past away, but she kept all my early paintings in a battered suitcase which she brought on all our journeys".
It all started in Kenmare when Harry gave Pauline a little book and at the tender age of 2½, Pauline did her very first sketch, a dancing girl. At the age of six, and with a packet of Harry's old oil paints and some scrap wood, Pauline secretly painted 'Bogac - Our Bog' as a surprise for Harry's birthday. For most paintings Harry saw the work in progress, but the artist remembers she didn't interfere, except to write the Irish words. "Harry had fallen madly in love with Ireland, and she would write the title of each painting in Irish. I was too young to write. Everything my sister Hazel and I painted was 'totally brilliant' in her view. She was a huge support to us both". Pauline's artistic skills were developing and she was being exposed to interesting and engaging images, such as visiting travellers, friendships with Kerry characters, and the Kenmare regatta.
Over the following years they lived in a houseboat, a caravan, a railway carriage, a gate lodge, a workman's hut and a suburban house. They lived in Belfast, Portrush and Derry for a brief period before deciding to return to Britain. Between 1944-1948 Pauline attended progressive and conventional schools in Wales and England - times which were both exciting and thought provoking for the young artist.

Leaving the progressive school they lived in a caravan in Salford before travelling the Kenneth and Avon Canal in a houseboat called Janty and settling in Henley-on-Thames. On that houseboat Pauline painted many of the images and ideas she was exposed to, always encouraged and supported by her mother.
After her unconventional schooling Harry decided to enroll Pauline in art school. A visit to the Cork Art School ended swiftly when Harry was told that life drawing wasn't allowed. "That is ridiculous", Harry informed them. The Dublin Art School accepted Pauline and Harry bought a house in Frankfort Avenue where she rented rooms to students and opened a vegetarian restaurant in her kitchen (Sheila Fitzgerald was the only customer). Pauline painted the images of this period – life in art school and at home, making new friends, beginning to fall in love, "cuddling up, dancing, wearing big hoopy earrings and going to hops".
The entry of Pat Melia, a young student at Trinity, into her life started a relationship, which has lasted over 55 years, with few hiccups, and is going stronger than ever. They married in 1963. Their first daughter, Poppy, was born in 1966, and Holly in 1970. Both girls were painted regularly throughout their childhoods, as has Pat Melia been over the past fifty years. The painting of 'Pat with Horns' shows the artist's reliance on her husband to read to her because of her dyslexia. "He can be very self-willed and I can be quite bossy, and when he wouldn't read to me one night, I painted him with horns".
After decades of a semi-nomadic lifestyle Pat Melia was offered a job in Killarney Psychiatric Hospital and in 1973 the family moved to Kerry. It was 35 years from Bewick's first journey to that county. The family lived firstly in Killarney later moving to their idyllic home in Glenbeigh in 1976. There, over the last 32 years, Bewick has been inspired to paint the images, which have made her an international name. These dream-like, hypnotic images of the beauty and cruelty of nature, female (and sometimes male) sexuality, fascination with cultures and religion, are images which will remain forever an integral part of the artistic canon which Ireland has given to the world. Many of these paintings are now part of Bewick's permanent donation to the State.
She has experimented with a number of different media, creating designs for wine labels, linocuts, bronzes, ceramics, collages, wall hangings, and, in particular, tapestries, some of which were woven in the 1980s by a local artist Regina Bartsch. In 2002 while driving through France, an unexpected opportunity arose to visit Aubusson, world-famous for tapestries. Since the 1950s Bewick had admired tapestries created in Aubusson and she used this opportunity to commission new ones from a master weaver, Bernard Battu, based on her 'Life of Cocks and Hens','Lovers and Stars' and 'Woman, Water and Oak Tree' paintings.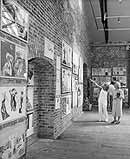 In the early 1970s Pat Melia and Pauline Bewick visited their artist friends Barry and Philip Castle in Tuscany, fell in love with the area, and bought their own house there. They regularly visit Tuscany where daughter Holly now lives with Tuscan husband Luca and two children. The stunning local landscapes are a great contrast with the Kerry landscapes painted regularly over these decades. The artist believes "you have to go out and experience nature, rather than just paint it in your head". She also enjoys representing human lives in nature, turning humans into other animals.
1985, was a major creative year for Bewick, as she compiled a huge retrospective exhibition of 1500 pieces,'From Two to Fifty' , shown in the Guinness Hop Stores, Dublin, the Crawford Municipal Gallery, Cork and the Ulster Museum, Belfast. David Shaw-Smith made a documentary on her work, and Dr James White published the first critical examination of the artist, Pauline Bewick: Painting a Life. In the late 1980s in Tuscany, Bewick created the initial sketches for her ideal character, the Yellow Man. She was trying to find both her ideal human being, and the ideal society. Inspired by the many conversations Harry had had about the South Seas way back in the 1940s, Bewick decided to move there for one year, not as a tourist, but to live in community with the locals. She was embraced by the islanders and witnessed many of their customs and ways of life, again seeing at close hand the beauty and cruelty of humans and nature. Life was hard, sometimes they were hungry, and she discovered it was not an ideal society, but she was happy. Bewick made many friends and had a relationship with Utanga. After that first year, she made another return journey for a year to finish writing her book, The South Seas and a Box of Paints.

The Yellow Man Exhibition Royal Hibernian Academy Dublin
Since returning to Ireland, Pauline Bewick has found her greatest happiness and contentment with Pat Melia in Kerry. She continued to work on her Yellow Man concept, mounting a huge record-breaking exhibition in the RHA, Dublin and writing and illustrating a book, The Yellow Man. In that book, Bewick writes of the Yellow Man's life in starkly spiritual text which reveals her own philosophies of life. And as always the humour continues in her life and work.
"I've painted a lot of scary big women. Where they came from, you would need an analyst!"
Her donation to the State now hangs in the Waterford Institute of Technology and in Killorglin Town Centre, with the third 'Travelling' collection now being shown in The Kenny Gallery, Galway before travelling the world. Bewick's offer of this master collection to the State was warmly accepted by John O'Donoghue TD, Minister for Arts, Sports and Tourism at the Abbey Theatre in November 2005.

"For almost seventy years she has drawn much of her inspiration for her art from her Kerry surroundings and from Irish life and mythology. Pauline is an extremely talented and extraordinarily prolific painter. While we are gathered this evening to mark the occasion of this wonderful publication of Pauline's works, I must refer to her recent display of enormous generosity in donating the works from her master collection to the State. On behalf of the Irish people I would like to thank Pauline for this overwhelmingly generous gift".
Alan Hayes