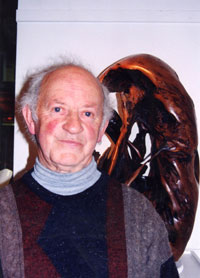 Michael Casey
Michael Casey was born in Lanesboro in Co. Longford in 1932. Even as a child he loved wood - though not yet the special woods of his art. He studied woodwork at Longford Vocational School, and then served his time as a builder's carpenter.
The 1950's were hard times for a young tradesman and like many others Michael emigrated; first to England and then to Canada and the United States. He stuck to his trade and hoped to find in French Canada a living tradition of woodcraft, which would give him something to bring back home.
He returned to Ireland in 1960 and he set up his carpenter's workshop on a piece of land, which he bought for £25 at Newtowncashel. He lives there with his wife and his son Kevin. Michael says that it was around this time that he felt the first stirrings of a creativity, which sought an expression beyond the decent limits of his trade - but where or how he could not see. Then one day in 1970 he saw his first piece of bog oak. A farmer's reject, it was to give focus and meaning to that incipient creativity and an object worthy of his heightened craft.
It took a long slow time for him to see its potential for the craftsman, longer and slower still to see its potential on the plane of art. But bog oak, bog yew and bog fir are all woods and Michael Casey's long and loving discipleship had by now made him a true master of woodcraft. He knew much of what he saw in that piece of bog oak, knew it for what it was and how to handle it. He discovered how to make it dry and still sweet, he learned to polish it and make it glow, dark and alive and he began to shape it.
Undoubtedly the material and its inherent shapes gives pieces their remarkable quality so that one could not imagine them made in any other way. But what precisely makes Michael's work unique, what gives it its specific power - often quite strongly emotional, even erotic - has to come from the creator.
---
Tom Kenny on Michael Casey and his Sculpture
Michael Casey's reputation preceded him. I had heard a great deal about him and his work before I met him for the first time in his studio in Barley Harbour. It was obvious from the start that he was a renaissance man, with many gifts and talents.
Michael is a true craftsman who, having mastered his materials, began to express himself artistically, turning folk art into fine art. His technical skills and his unique vision transform the 'peasant material' into art works that range from the classical to the contemporary. He recognised early that bog deal was not simply a nuisance to the turfcutter, suitable only for burning, but rather a valuable medium for carvers and sculptors all over the country.
The first thing you notice on entering Michael's studio is the atmosphere, a heady seductive aroma of beeswax and wood, of antiquity and creativity. This is a magical place full of fantastical pieces of oak, yew and pine in various colours and textures. These strange wooden creatures exude a spiritual calm, and their tactile quality invites you to manually experience and caress them, even to hug them. They are all silently drip-drying internally, waiting for the master's touch, as he moves them around, while searching for shapes in the wood. These shapes are not always immediately evident. One piece stood in his studio for eleven years, before the thrilling moment when he saw Cuchulain emerging from the wood on horseback.
This is Casey's kingdom where he has built a platform high up on the roof of his studio. He goes up there very early on fine mornings, to eat his breakfast while watching nature weave its magic on his beloved hinterland. He is so finely tuned to his landscape that he can listen to the silence. Few people derive as much pleasure, inspiration and rich fruit from nature.