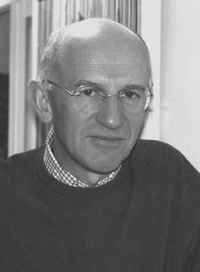 John Coll
John Coll is one of Irelands most prominent figurative sculptors. He has sculpted many works of national importance including monuments to the poet Patrick Kavanagh and the writer Brendan Behan on the Dublin canals. Other large-scale projects include a monument to Countess Markievicz in Rathcormac, Co Sligo and locally a life-size portrait of the racehorse "Bobby-Jo" in Mountbellew, Co Galway.
Recent works include a 3.5 metre bronze and stainless steel sculpture entitled "Ceilliuradh" in NUI Galway and he is presently working on a 4.5 metre monument to the Galway footballer Enda Colleran for Moylough, Co Galway.

He has exhibited widely in Europe and held a one-man show in New York in 1998. His work is found in many collections including the Bank of Ireland collection, The National Museum Collins Barracks, The Irish Museum of Modern Art, The National Library of Ireland Collection and Stanford University, California, USA.
John Coll's first one-man exhibition was in Kennys Art Gallery, Galway in 1985. Since then he has had shows in Galway in 1987, 1989 and 1991 and in Sligo in 1988. He has featured in many group shows, most notably as a prize-winner in the Oireachtas. He has had a number of private commissions, including portraits of Benedict Kiely, Brendan O'hEithir and Francis Stuart, and of the late Siobhán McKenna. He has two important commissions in Galway, in the City Hall and in Celtic International. His most recent was the artwork for the Dublin Literary Parade in St. Patrick's Park. He has worked on important projects with John Behan, with Eamonn O'Doherty and with Macnas.

There are two major developments in his approach, firstly in terms of the medium he uses. For some considerable time, his output was almost exclusively in stainless steel, but he began to feel the need for a more malleable or textile medium. This, together with a desire to introduce some colour into his forms brought about a change to non-ferrous metal, such as copper, brass and especially bronze.

The second major change is due to the fact that he now lives in Dublin. This has moved him away from the birds, plants and fishes of the West to the human figure - to the butchers, the carters, the sculptors and above all the writers of Dublin. John Coll is especially drawn to Beckett - because of the honesty and humanity of his work and because of his amazing face.
During the summer of 2000 the distinguished artist made a return visit to Galway with an exhibition entitled 'Upon Reflection'. This was John's seventh solo exhibition with The Kenny Gallery since 1985. Each of these shows meant a change in style, and as his work shows a constant willingness to experiment with new ideas and different media.

The work in that show was like a mini-retrospective, illustrating many of the themes, which inspired the artist. There were some of the early studies of birds and animals, of bronzes based on various myths, studies of literary figures, Vincent Van Gough; and a new series of surreal images in cast bronze. Another new feature of John's work is a series of intaglio prints. The work is mostly figurative.
Commissions
"Tern Flight": A 4 metre high stainless steel piece for the new city hall in Galway, Ireland, commissioned by Galway Corporation.

Busts of writers Paul Durcan, Francis Stuart, Benedict Kiely (private collections).

A bronze plaque of writer Breandan O'hEither, in the foyer of RTE, Dublin.

Bust of Irish actress, Siobhán McKenna, in the Town Hall Theatre, Galway.

Bust of His Holiness, John Paul II, in St. John's, Newfoundland, Canada.

Bust of Robert Boyle, commissioned by Waterford County Council, for the new public Library, in Lismore, Co. Waterford, Ireland.

St. Patrick's Park "Literary Parade": A series of plaques commemorating Irish writers were commissioned by Irish Distillers in 1988, and those depicting Swift, Wilde, Yeats, Joyce, Beckett and Behan were executed by John Coll. the remainder (Mangan, Shaw and O'Casey) were executed by Colm Brennan.

Bust of Eoin McNeill, private collection.

A life-size torso of Oliver St. John Gogarty, commissioned by John Coyle, for Gogarty's former residence, now Renvyle House Hotel, unveiled in 1994, at the inaugural meeting of the Gogarty Society.

Memorial plaque to James Joyce, for the entrance to the Mater Private Hospital in Eccles Street, Dublin, commissioned in 1991 by the Board of the Hospital.

"Bell Beat"; a cast bronze wall piece, 2.5x1 metre, commissioned in 1995 by Irish Ferries for the "Lake Isle of Inisfree" ferry, now servicing the Dublin Port to Holyhead route.

"Chestnut Chair" : a two metre bronze bench for the entrance to No. 30, Herbert Street, Dublin, commissioned by Treasury Holdings Ltd., 1998.

"Ogham Speaks"; A nine foot bronze celebrating the four Irish Nobel Prize Laureates, sited in the New Library,Stanford University, Palo Alto, California, USA, 1999.

Commemorative plaque to General Risteard Mulcahy, Clonmel, Co. Tipperary, Ireland and the National Museum, Collins Barracks, Dublin, 1999.

Monument to the journalist Veronica Guerin, unveiled at the Four Courts.Dublin, in March 2001. Commissioned by Independent Newspapers Ltd.

Life size Bronze Monument to Jean Babtiste De La Salle, Chapel Street, Castlebar, Co Mayo. Unveiled April 2001. Commissioned by the De La Salle Past Pupils Union.

Life size bronze equestrian monument to the race horse "Bobbyjo" for Mountbellew, Co. Galway, unveiled in March 2002. Commissioned by Mountbellew Development Committee.
Other Projects
"I have given sculpture demonstrations at various schools and festivals in Ireland, and have worked with the street theatre group Macnas, in Galway. I have designed various awards as follows:"

Semperit "Car of the Year", in 1999, 2000 and 2001.

Ford/Independent Newspapers Spirit of Life Awards, 1998 and 1999.

Evening Herald/Eircom Dublin Theatre Festival Awards 1998 and 1999.

National Newspapers of Ireland Advertising Awards 1999, 2000, 2001 and 2002.

IMROG/TG4 Traditional Music Artist of the Year 1998, 1999 and 2001.

Kellogs Nutrigrain Women All Ireland Golf Trophy Award 2001.
Exhibitions
One-man shows in the Kenny Gallery, Galway, Ireland in 1985, 1987, 1989, 1991, 1993, 1995, 1998, 2000, 2002 and 2005.

One-man show at the Sligo Arts Festival, Sligo, Ireland in 1988.

Participant in Group Shows in the James Gallery, Dalkey, Co. Dublin, Ireland.

"The Light Behind the Written Word": exhibition in the Allied Irish Bank Centre, 405 Park Avenue, New York, in 1998. A one-man show comprising twenty five cast bronze sculptures inspired by Irish writers and their work.

Exhibited at all the major national shows in Ireland, including the Royal Hibernian Academy (1991, 1992,1993), and the Oireachtas Exhibition (prize-winner 1988).

Founder member of the Western Artists Group (founded 1988).

Exhibitions with the "Island Connection" group in Spain (1993) and Ireland.

Participant in an exhibition of Contemporary Irish Art, in Boston, USA, in 1990.

Participant in "Espace", an exhibition of works of fifty sculptors form all the European Community member states, held in Dublin in 1991, to celebrate its status as European City of Culture.

Participant in "Famine", an exhibition organised by the George Moore Society in Claremorris in 1995. This exhibition travelled to the USA, Canada and Northern Ireland. It commemorated the 150th anniversary of the "Great Famine" in Ireland, and comprised works by 35 invited artists on the famine theme.

Amsterdam Sculptors Collective Invitation Exhibition, 1997.

"Border Crossing", an exhibition of eight Irish artists in Gallery Ravel, Spring Street, Soho, New York, 1998.

Group exhibition on the theme of "Hurling " the Kenny Gallery, Galway. 2001
Education
| | |
| --- | --- |
| 1975-1979 | B.Sc. Honours degree in Zoology, University College, Galway, Ireland. |
| 1982-1983 | Diploma in Visual Arts, Regional Technical College, Galway, Ireland. |