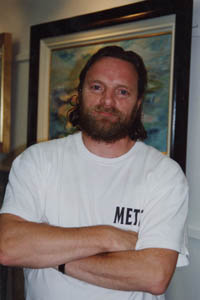 John Connery
It would seem to many that the name John Connery has burst onto the Irish arts scene almost from nowhere. With his brand of traditional, yet slightly off-centre work, John's paintings exhibit the depth and confidence of one who has spent an uninterrupted lifetime in the studio.
Born in Hillsborough in 1956, John Connery's childhood was divided between sketching the rolling fields of County Down and exploring the boglands of Donegal. A love of his native countryside has resulted in a traditional style of painting and a burning need to capture aspects of the Irish landscape on canvas before they disappear forever under the developer's bulldozer. John comments, 'When you're starting out you need a hundred brushstrokes to say one thing. Ultimately, I want to be able to say a hundred things with one brushstroke.'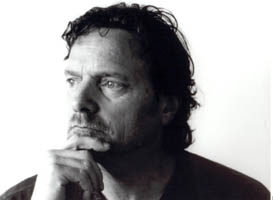 In 1964, eight year old John won a nation-wide art competition gaining three first prizes in painting, lettering and poster design. At eighteen years of age, he entered what he now refers to as his lost weekend - a weekend that lasted twenty-three years, dabbling in everything, overcoming a debilitating illness and frequently changing jobs. These intervening years were somewhat grey and artistically unproductive for John. He is now regarded as one of the emerging talents in Irish art.
On his return to painting (almost twenty-five years later) at the beginning of 2002, John set himself the daunting task of staging five exhibitions in a one-year period. They were to take place around the country and had as their theme, the uniqueness of Ireland and her people. The exhibitions were titled "An Insular People" and captured on canvas everything from horse fairs in Ballinasloe to fiddle sessions in Belfast. 'Thankfully', said John, 'they were overwhelmingly successful, but mentally draining. It'll take all of next year to recover!'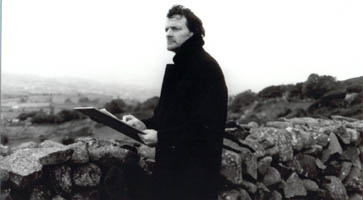 John's subject matter is mainly the Irish landscape, and of late, the city of Prague. He also paints Irish musicians, pub sessions and horse fairs - especially Ballinasloe. Observation is key to John's work. His observations are also captured creatively in his short stories. In 2004 he self published a book of short stories entitled 'The Insular People'. The first edition sold out and a second edition is being prepared. Work is almost complete on this second book 'Under a Blackthorn Bush' which should be available in 2006. John tries to paint something every day. He finds that his painting inspires his writing, and vice versa.
John's most recent one man exhibition was held at Manor Fine Arts, Banbridge. Entitled Prague II, it was his second exhibition of paintings exclusively of the city of Prague. John's submissions to the Royal Ulster Academy annual exhibitions have been accepted for the last three years. We are looking forward to John's first solo exhibition at The Kenny Gallery in 2007.
Paintings by John are held in private collections throughout Ireland, England, USA and South Africa. Gerry Murray, of the Derry Journal comments: "[John] has done for posterity what John Millington Synge did through the genre of literature a century ago and the Chieftains do through their music today."