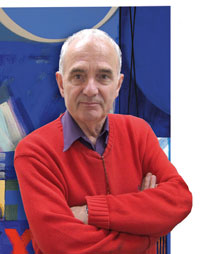 Brian Ferran HRHA HRUA
Born in Derry 1940, he became an art teacher and taught for three years. A graduate of the Courtauld Institute of London University and of Brera Academy, Milan, he is a former Chief Executive of the Arts Council of Northern Ireland. Since 1963, he has undertaken public and private art commissions and has exhibited paintings regularly in Europe and North America. At Oireachtas Exhibitions in 1965 and 1976 he won the Douglas Hyde Gold Medal for Irish historical painting. In 1970 he was a Leverhulme Scholar. He is an Honorary Member of the RHA and the RUA and exhibits annually at the exhibitions of both institutions.
Some Recent Exhibitions
Jorgensen Fine Art, Dublin 1993, 1997, 2000 & 2003; Museo Francisco Goitia, Zacatecas Mexico, 1997; Savva Gallery, E 53 Street, New York, 1998; Gallery 79, Newbury Street, Boston, 1999; Riverside Gallery, Enniskillen, 2000; Gallery L'Enclume, Neuchatel, Switzerland, 2001; McGilloway Gallery, Derry, 2001; Wentworth-Coolidge Art Center, Portsmouth, New Hampshire, 2001; Kendall Art Gallery, Wellfleet, Massachusetts ,2001: Hodgell Gallery, Sarasota, Florida, 2003; Grass Roots Gallery, Englewood, Florida, 2003; Mc Bride Gallery, Killarney Co Kerry, 2006
Residencies
Residencies at the Wentworth Coolidge Mansion, Portsmouth, a State Heritage Property at New Hampshire 2001 and at the Cill Rialaig Project, Co.Kerry 2007
Selected Collections
An Chomhairle Ealaíon; Arts Council of Northern Ireland; Crawford Municipal Art Gallery; Donegal County Council; Wexford County Council; Ulster Museum; National Self-Portrait Gallery; Derry City Council; Belfast Education and Library Board; First Trust Bank; Northern Bank; Allied Irish Bank; Institute of Public Administration, Northern Ireland; Dept of the Environment; Office of Public Works; Irish Contemporary Art Society; North-West Arts Trust; Ulster Arts Club; Irish American Cultural Institute; Dermot Desmond; Vincent & Noeleen Ferguson; Gordon Lambert; George & Maura Mc Clelland Collection; University of Ulster; Queen's University, Belfast; University College, Cork; St. Mary's University College, Belfast; Stranmillis College; Boston College; Fergus Falls Community College, Minnesota; Fordham University and St. John Fisher College, New York.
---
The Lore of Places
Many paintings in this exhibition began in distant places but were completed in Donegal. Four years ago, Denise and I moved from Belfast to live beside the Atlantic Ocean on the Inishowen Penisuala. Our new townland is close to my grandparents home and where I spent the summers of childhood and youth and a short distance from Derry where I grew up. The familiarity and beauty of this place, its rich history and archaeology, give me comfort and assurance. The location is close to the birthplace of Colmcille, who has fascinated me, for as long as I can remember. From a rocky shore, close by, he departed for Iona. Moving to a new studio facilitated revision of the imagery, which, preoccupied my painting practice for forty years. I browsed through unfinished canvases and bulging portfolios of magazine clippings, drawings, photographs, exhibition catalogues, postcards and other printed ephemera. I collected these for the purpose of informing unrealised paintings. Some of the cuttings dated back to my student days but the persistent themes were Irish mythology and archaeology. This eclectic collection of ragged memorabilia reenergised my enthusiasms.
Our move to Malin coincided with a commission I received from the Gaelic Arts agencies, Ultach and Colmcille to make images in response to the stanzas of Amra Cholum Chille, Dallan's Elegy for Columba. This poem was composed soon after St. Colmcille's death in 597 and is the earliest datable work in Gaelic literature. My completed images were reproduced in a new translation by P.L. Henry, published in 2006. The poem described what I was seeking amongst my souvenirs, in its references to places of myth and imagination. My intention was to illuminate the inferred narrative rather than illustrate it. I sought to surprise myself and to imbue eighteen images with a palpable intensity and a sense of magic. The themes in this exhibition are inspired by one of Dallan's descriptions of Colmcille, ie. "He was learned in the lore of places."
Brian Ferran
February 2008