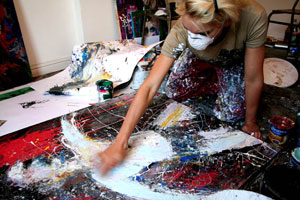 Katarzyna Gajewska
Katarzyna Gajewska was born in Warsaw, Poland in 1978. She graduated from the Warsaw Academy of Fine Arts as a Master of Fine Arts in March 2005 and was awarded a Ministry of Culture Scholarship.
The recipient of two residencies at Cill Rialaig, Co. Kerry in 2005, she also exhibited in the Origin Gallery in 2006 and subsequently widely throughout Ireland and internationally.
Selected Solo Exhibitions
| | |
| --- | --- |
| 2002 | Forum of Non - Governmental Initiatives, Polish Theatre, Warsaw, Poland |
| 2002 | Exhibition of paintings and posters, Fund of Non - Governmental Initiatives, Warsaw, Poland |
| 2002 | Kawiarnia Radna, Warsaw, Poland |
| 2003 | Exhibition of paintings and graphics, Elektor Gallery, Warsaw, Poland |
| 2004 | Gallery Chimera, Old Town, Warsaw, Poland |
| 2004 | Gallery Kotlownia, Warsaw, Poland |
| 2005 | Gallery Le Madame, arsaw, Poland |
| 2005 | Poster Exhibition, Make Art not Violence, Gallery Le Madame, Warsaw, Poland |
| 2006 - November | "The Battle over Madame X", Origin Gallery, Co. Dublin |
| 2006 - December | "Beyond the Clouds", One Gallery, Co. Dublin |
| 2007 - February | "First Hand Emotion", Signal Arts Centre, Co. Wicklow |
| 2007 - March | "Face'ography, The Linenhall Arts Centre, Castlebar, Co. Mayo |
| 2007 - June | "In the Name of the Feelings", Courthouse Arts Centre, Tinahely, Co. Wicklow |
| 2007 - August | "Based on Dreams" , Riverbank Arts Centre, Newbridge, Co. Kildare |
| 2007 - September | "Pleasures and Terrors", The Mill Theatre Gallery, Dundrum, Co. Dublin |
| 2007 - November | "Paintolepsy" Droichead Arts Centre, Co. Dublin |
| 2007 - December | Cavan Arts Office, Co. Cavan |
---
My painting process is something between my dreams and documentation. My art is situated in the middle - not in the realistic and not in the abstract, in popular meaning.
I am looking for human simplicity and complexity in the same way.
I am trying to catch the casual feelings, naked and defenceless in their realism, and then with understanding and patience I start to build portraits.
My portraits are like multilayered cocoons, profoundly intimate, sexual or innocent. Psychological topography; still glances, crucial in their expression are uncovered in layers of my paint. Bold, rich and dramatic faces are like language; pulsing and inspiring. My portraits are my form of communication. For me no subject is sacred. The role of provocative feelings, persuasion, as well as the human impulse to beautify compels my works of art.
I don't use any tools besides my hands - to be closer. I could say that my art is a first hand emotion - and that's why I am painting only with my hands. It allows me to make close ups much deeper than they really are. I love using extreme zooming in - in life and in my paintings. My inspirations are deeply rooted in myself. I'm trying to search for inspiration every day: To reach for the deep feelings hidden below the surface of appearances, to pull them out from behind the windowpane. It is a permanent record of fleeting sensations. This release from naturalism is a real struggle between the forces of creation and destruction.
The relation between painting and imagination, eroticism, dreams all have been always a constant theme for me. The abiding theme is the human condition, explored over in painting. It is the relationship, the struggle and fragility of feelings that inspire me. Self destructive love, imagination, mystery, compulsiveness, addiction, insecurity, mistrust, tragedy, love, imagination, continuity, dream, safeness, fear, cold, hot, night, day, peace, trap - it is a journey of pleasures and terrors. What I am telling is a story about dark and private theatre, which is reaching the subconscious roots of human condition. A massive expanse of rich colour is exposing the raw vitality of the mind.
A big part of the paintings is open - ended, which constitutes effects of saving suppressed emotion. Some parts of the paintings are abstracted (Utilizing automatic techniques and careful study I am exploring physical expression of emotion) because of the elusive nature of our feelings. The effect of the feeling's complexity is doubled by the works chaotic texture. Trying to contour human silhouette in bold structure on the surface, I am exploring the physical expression of the theme. The paintings give direct attention to their own physicality and because of that, the human form emanates with psychological structure, driving to insubstantial. Colour and texture are symbols.
The tale of passion and reflection is improvised.
Like all addictions and strong love and emotion, painting is my pleasure and my terror.
Katarzyna Gajewska, 2008
---
"Katarzyna's paintings are haunting and emotional, all the more visceral due to her methods of painting. The fact that she uses her hands give the paintings an amazingly powerful primitive feel. The figures feel as if they are emerging or disappearing. They occupy a peripheral world like ghosts and this gives them a stunning intensity and power"
Irvine Welsh, Author of Trainspotting