To view the entire collection, including details of sizes and prices, please click here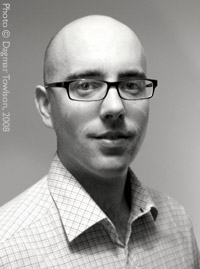 Dean Kelly was born in Galway in 1977, and grew up in Loughrea.  His family moved back to Galway City at the time he was to begin secondary school, which he feels was something of a personal hibernation.  He studied for a Diploma in Art & Design under Hugh McCormick and it was there in Galway RTC that he found friends, a milieu, and a confirmed purpose - he had never consciously 'chosen' to make art; it had always just been something he did and had to do, but here he found that it was something that he could pursue in earnest.
Having finished Art College, Dean studied for a Degree in English and History at UCG, but he maintains that this was as much for the want of something to do as for any particular educational or vocational need. He began working with the theatre and spectacle company Macnas - becoming a full member in 1998. Macnas had its workshops on college land so lectures could be juggled with the latest parade, theatre set, prop, mask making, design or other project. Dean was commissioned to make numerous 'Massive Heads' (as they came to be known) continuing a Macnas tradition taken up from

els

Comediants

, an influential Spanish group that had worked with Macnas before Dean's time there.

 

He went on to design, model, cast, paint and fit out his large caricature fiberglass masks for the likes of Robbie Williams, Chris Evans,

Boyzone

& Tom Jones - all of whom delighted in his creations.

 

However, Dean's first 15 minutes of fame was tempered by the fact that as he did not travel to meet the illustrious clients, and was instead often to be found modeling the next giant lump of clay into the small hours while performers from the company brought his works to life much further afield. His focus was always on the making of new work and less on the rock and roll. Perhaps the organizational skills involved in coordinating large projects led Dean into the field of arts administration, and he has worked as Exhibition Coordinator with the Kenny Gallery since 2001.
Kennys afforded him ongoing employment as opposed to the less regular work in design, theatre and prop making. This security allowed him time and the mental space to focus on his personal fine art work at a time when he was also beginning family life. Constancy in his work life meant he could plan towards his future as a painter.
During his time with Kennys Dean has been privileged to work closely with numerous successful and influential artists who continue to inspire and encourage him.
He has exhibited in numerous group shows - most notably with John Behan RHA in 2005 (invited by the sculptor with the 'core' artist collective – of which he is a founder member). His work is held in private collections in Ireland and abroad, including that of the Galway Mayo Institute of Technology and Galway City Council.
| | |
| --- | --- |
| | |
---
Dean Kelly's method involves his combining those elements to which he feels most attracted – drawing, and a respect and reliance on traditional methods is allied with an increasingly loose painterly aesthetic, which supersedes his previous over-cautious and tentative method. The graffiti inspired paintings of Jean Michel Basquiat, along with the child-like work of Paul Klee and Jean Dubuffet influence him greatly, and these 'freer' artistic forms, with expressive colour and mark-making, are combined, collaged, layered and juxtaposed using mixed media with elements of graphic design, tight representation, symbolism, imagery, and allusions to mythology, history, religion, politics or images of everyday family life.
The end result expresses those ideas, notions and theories that form the artist's conception. He increasingly finds worth in the accidental, harnessing the intentional or directed 'mistake' – looking to Bacon in his application or to Pollock in his strategy, if not aesthetic.
modus operandi?
"This is a difficult business. I suppose the most trying aspect in this post-post-modern era is the challenge of being original. I don't necessarily sign-up to Damon Albarn's adage about post-modernism taking those things that went before and re-hashing and re-presenting 'in a knowing kind of way' - this is perhaps too mercenary or cynical. I never did take solace either from the idea that because all of the artistic peaks had already been traversed during the 20th century, in a way we were now 'free' to do what we like as artists... a bit too open-ended for my blood - and it always leaves me with a kind of hollowness - like hearing that Amundsen had already reached the pole using dogs or something! It means that the world leans back and dares you to impress. Also, the fact that 'anything goes' now is all too often used as an excuse for presenting poor work, which jades the eye of a viewing public.
In this time of post-simple-representation, the individual statement of the artist has gained increasing importance. One could argue that the ideas and reputation of the artist are as important as the visual quality of the work - with this in mind our challenge is to hopefully appeal to enough people while making your own statement to make it worth doing. It is a very lucky practitioner who has the public on-side while doing exactly what they want to be doing.
I don't see it as my particular job to recreate the world as we (that are blessed with the ability to) see it through our eyes, and to fix the same in relative permanence of oils on canvas no longer fascinates or occupies me as it may have done in the past. I am perhaps immodest or brazen enough to imagine that my ideas are worth bringing into the work, and that perhaps others of a like mind or who see something intriguing or beautiful or interesting or quirky or challenging or nostalgic in the work may just wish to continue the experience and take one home with them.
For me it is not a fun experience - it is not a hobby or a relaxing or therapeutic experience in any way - only perhaps in that making art for me is like the easing of a need - it is necessary every day, although it would be overstating it to say that it is as necessary as air or food is or something... rather, and not speaking from experience, it is like a junkie getting their fix - it eases an ever-present niggle. It is hard work, but to be worthwhile it should be hard work. Every mark made is like walking a tight-rope; when you are in the moment you certainly let things flow, but there needs to be a constant refinement and a self examination of a most intense manner.
There are pit-falls all along the way too - getting stuck in an artistic rut - getting pigeonholed in a particular style that becomes economically rewarding and difficult to then leave behind even after the muse has gotten up and left the room... there is the difficulty of finding your own voice, and knowing what this voice says to you, and how it is distinct from the sum of those myriad influences we are bombarded with on a daily basis in the media.
Aside from method and intention there is also the aspect of subject - I suppose there is a courage required in overcoming one's own, at least my own, previous tendency to hide my own private life and to bring my ideas, theories, thoughts and feelings about things into the realm of public representation. In my own case, I may have no shortage of things to say or ideas to paint - but I did have to break down that wall of self preservation in branching into the 'personal'.   It matters little that you express yourself as you wish if you are not bringing anyone along with you - every artist also needs that bit of luck that the particular expression they are happy making also happens to be liked, appreciated, and eventually bought by others!
I was also shy of bringing any aspect of personality into the work because I felt that I hadn't sufficiently demonstrated my basic ability - served my apprenticeship, so to speak. I felt that I couldn't be seen to 'try things' before showing that I could just paint. But this was second guessing the viewer and risking appearing schizo if I then switched to the type of work that I was just waiting to produce. Better to trust my ability and begin as I mean to continue...otherwise you could get inextricably linked to a style not from your soul. I suppose that I had been aware of public (and perhaps at that time my own) misgivings of what might be perceived as modern, slap-dash, perfunctory, amateurish, abstract (a much overused term), and it could be all too cozy to play to the gallery (excuse the pun) - a greater risk to be true to your own aesthetic proclivity. In other words, it would always be easier to paint - if all you are concerned with is other's approval - that which is purely decorative, readable and approachable. It is understandable, and safer to work with a mind to pleasing others - but to paraphrase Lincoln, we should not attempt to please all of the people all of the time - so maybe we should please ourselves, as we will no doubt bring some of our viewers along with us in any case, and those that we do bring in this instance are more likely to appreciate you for your individuality! There is a certain wearing your heart on your sleeve in having this attitude to your work - and not a little 'neck' to be creative in general - you are essentially saying to the viewer, 'here is something I have made, look at it, and appreciate it', and perhaps if I am honest, 'appreciate me please... '.It is the most public of art forms. The novelist can tuck a lot between the covers of their latest book, but the visual artist puts it all 'full frontal'. We take a risk every time we put ourselves out there - but we should not let this fear hamstring expression.
One must also get past the fear of ruining that which you are in the middle of creating - to let go and trust your own ability come what may, without becoming blasé, is tough.
In an increasingly busy life, time constraints, new duties, priorities are all things which we must take on board. We have recently had an addition to the family and this responsibility and curb to time has enabled, much to my surprise, a freedom of expression, as 'art' is suddenly not as high on the pecking order. I can relax more in the execution - because everything is suddenly recontextualised - while there is a pressure to be creative between the hours of such and such, in my case I find that this pressure, and indeed the deadline of exhibition forces one to take artistic leaps of faith, not to put things on the long finger and just get the work done and put it out there in a way that I might not have otherwise. A deadline has a way of creating focus. If you had endless time you could prevaricate and repeat yourself and dawdle... these are all things we have to deal with as working artists, and I suppose that all of these pressures and opportunities and factors have led to my current means of working - hence the title for the show."
I would like to thank Tom Kenny for this opportunity and all at Kennys for their friendship and encouragement, and to dedicate this exhibition to Dagmar and Oliver for their love and unstinting support.
DEAN KELLY 2008
---
""
"I am impressed with the graphic skills as per usual, and also by the expressive power of the imagery.  The work is strong, being both subtle yet positive at the same time.  The ones that satisfy me most are the portraits – Self Portrait, Study towards the Head of a Boxer and Ophelia. The 'Boxers' and 'Pin-up' series are very successful and well realized"
JOHN BEHAN   RHA, August 2008
"Dean Kelly's paintings are strong - very male. They are original, and he is very much himself in this collection... he is interested in everything, and I like him."
PAULINE BEWICK RHA Aosdána, in conversation July 2008
"I must start by drawing your attention to the work of Dean Kelly. I was particularly struck by this important work. It chronicles and evinces the rapid change of our society of the late 90's and is an important record. It deals with the constant ebb of ephemeral culture... that history and constant stripping away. One can also see a developed sensibility - like the work of a young Willie Doherty - capturing what we live with - an abiding account of life. His paintings show a confident treatment, with a contemporary approach to traditional materials, media and modes."
MICHAEL D. HIGGINS   T.D., 2004
"These are really layered images... powerful... complex and interesting. Although, I'm particularly fond of 'Dog's Abuse' - a lovely composition reminiscent of Gwen John. In this one less is more - much has been eliminated. Well done!"
JOHN KINGERLEE   June 2008
"Dean Kelly... Gamekeeper turned Poacher"
CAROLINE WALSH   Literary Editor, The Irish Times, 2007
"Ophelia, Starlet and Negative Equity are very solid, with excellent tone and construction. Use of texture of particular interest… mature, whilst still retaining an experimental innovative design".
KENNETH WEBB   RUA FRSA RWA, July 2008