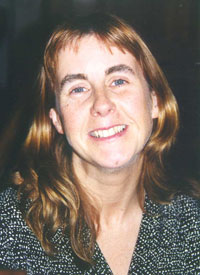 Linda Keohane
Linda Keohane is originally from Cratloe, Co. Clare. She has become well known for her distinctive styles of work - the vivid watercolours in inks and the delicate paintings on dried leaves. Her watercolour work finds it inspiration in stone rims, dolmens, ogham stones, etc., of the West Coast of Ireland, an interest developed from studying Archaeology in University College Cork.
In her leaf work, she paints tiny elfin faces on dried leaves to express the idea of life force in all nature and the fact that the dead leaves of autumn give new life in the spring.
Her images are highly original, poetic and full of character, with the combination of leaves and paint production magical textural effects. Linda is also a prize-winning photographer.
Her work has been exhibited throughout Ireland and in Holland, Britain, France, U.S.A., Canada and New Zealand and most recently Japan.