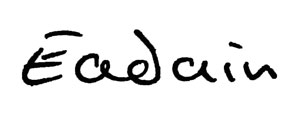 Éadaín Madigan
Éadaín was born in Dublin where she now works as an artist and illustrator. She studied art in Galway, Dublin and Italy.
Her 2004 Exhibition at The Kenny Gallery 'After the Rain' was her Éadaín's fifth solo exhibition, and her second in the Kenny Gallery. The collection of oils was based on the National Botanic Gardens where she has worked as an illustrator in recent years. The exhibition was opened by Lorna Siggins of The Irish Times.
Éadaín has also exhibited in group shows around the country, and her work is to be found in both public and private collections in Ireland and abroad. Éadaín works and teaches in a wide range of media including watercolour, oils, mixed media and print.
In 2005 Éadaín was commissioned to produce an image for the Galway Arts Festival poster. Her evocative image of Galway's famous Druid Lane proved to be enormously popular and the poster is now almost out of print. She has been commissioned to do the 2006 poster also.