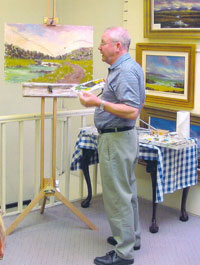 Jerry Marjoram
Jerry Marjoram is one of the great enthusiasts in Irish Art. He was born in the Liberties area of Dublin in 1936. He began to paint for pleasure, but the hobby soon became a passion. He entered the College of Art under the tutorship of Maurice McGonigal, and while there was also taught by Sean Keating.
His first major break came when Combridge's in Grafton Street took him on. There was a fast growing demand for his paintings, so he gave up his job in 1970 to paint full-time. Since then he has had many solo exhibitions in Dublin and Galway. He is thought to be the first visual artist from the Liberties to have had a one-man show in Dublin.
He finds himself continually drawn to the West of Ireland and to Connemara in particular, for inspiration. His paintings are realistic, and tend to be of the natural landscape as God made it. He spends a great deal of time exploring in the West, looking for new ideas, new vistas.
Corporate collectors of his work are too numerous to mention but notable prominent acquisitions include the Abbeyglen Hotel in Clifden, the executive suite of Dublin's Berkeley Court Hotel, and the Irish Embassy in Prague where one of his largest paintings now hangs.