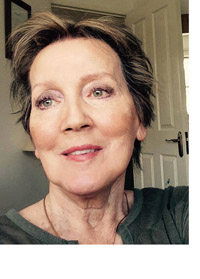 Selma McCormack
It is twenty five years since The Kenny Gallery first exhibited the sculpture and paintings of Selma McCormack. To coincide with this noteworthy anniversary the recent past has seen a renewed creative impetus as the artist recovered from serious illness.
Gripped by an almost cathartic addiction, Selma McCormack worked through this recovery with the energy of her early career.
An abstract colourist, Selma paints from something of a purposeful impulse - directing her brush in search of herself. She vents her subconscious with energy and immediacy. but her work always follows - and must satisfy - her own aesthetic. So in this way a blast of expression is directed and carefully curated by the artist's eye, and must harmoniously 'ring-true'.
In work reminiscent of artists from Rothko to McSweeney she revels here in expressing with paint the transcendental essence of nature, of turbulence, of lost places. Her images have a deep sensitivity suggesting themes beyond the surface.
If her paintings tend to the overused term 'abstract' then her sculpture, her first true love, is certainly 'figurative'. Perhaps the technical use of her media - mostly clay brought to either a cast bronze or fired ceramic finish - force a slower consideration than her painted artwork.
We see masterfully realised dancers, bulls, gymnasts and equestrian pieces, and although more immediately decipherable than her paintings they are ironically more at hands length than the intensely personal expression of her paintings. Her delicately poised figures, her weighty bulls are talismans - they embody and stand for moments in time, of actions, of relationships, and even states of mind.
Originally from Galway, Selma has been based in Dublin for some years. This welcome return to the West of Ireland, of both artist and artwork is a remarkable 'Full Circle'.
---
"These paintings have a deep sensitivity suggesting themes beyond the obvious. This is art in motion and can at times be simultaneously formidable and comforting."
Fred Johnston
"These images, both two and three dimensional, are composed and finally consciously selected for display to best effect in the mind of the artist, and we the viewers marvel at the sense of immediacy. Selma McCormack has revealed to us some of the better aspects of the art that conceals art, and we have been privileged to witness the creative actions of the dreaming mind."
Gerry Walker - N.C.A.D.
"Selma McCormack's gift of shaping material in a delicately balanced way is abundantly evident. These bronzes… are of course not just pieces of shaped material; they are finely turned embodiments of moments in time, of actions, of relationships and even of states of mind. This is sculpture at its most artful, most expressive and most humane."
Tom Duddy
Selected Solo Exhibitions
2017 - United Arts Club, Dublin
2014 - Norman Villa, Lower Salthill, Galway
2009 - Kenny Gallery, Galway
2005 - Russell Gallery, Newquay
2004 - Kenny Gallery, Galway
2001 - Kenny Gallery, Galway
2000 - United Arts Club, Dublin
1998 - Kenny Gallery, Galway
1996 - US Embassy, Dublin
1995 - Kenny Gallery, Galway
1994 - Carroll Gallery, Longford
1990 - Caldwell Gallery, Dublin

Selected Group Exhibitions
Íontas
Oireachtas
RHA
RUA
Claremorris Open
Sculpture in Context
Solomon, Dublin
Hallward, Dublin
Lavit, Cork
Bell, Belfast
Eakin, Belfast
Gormally, Dublin/Belfast
Kilcock Art Gallery

Selected Collections
Guinness, Dublin
Goodbody Stockbrokers
Revenue
K.P.M.G.
All Ireland Media
Larkin Partnership
McConnell Advertising
Peter Owens Advertising
Irish Active
Dublin Corporation