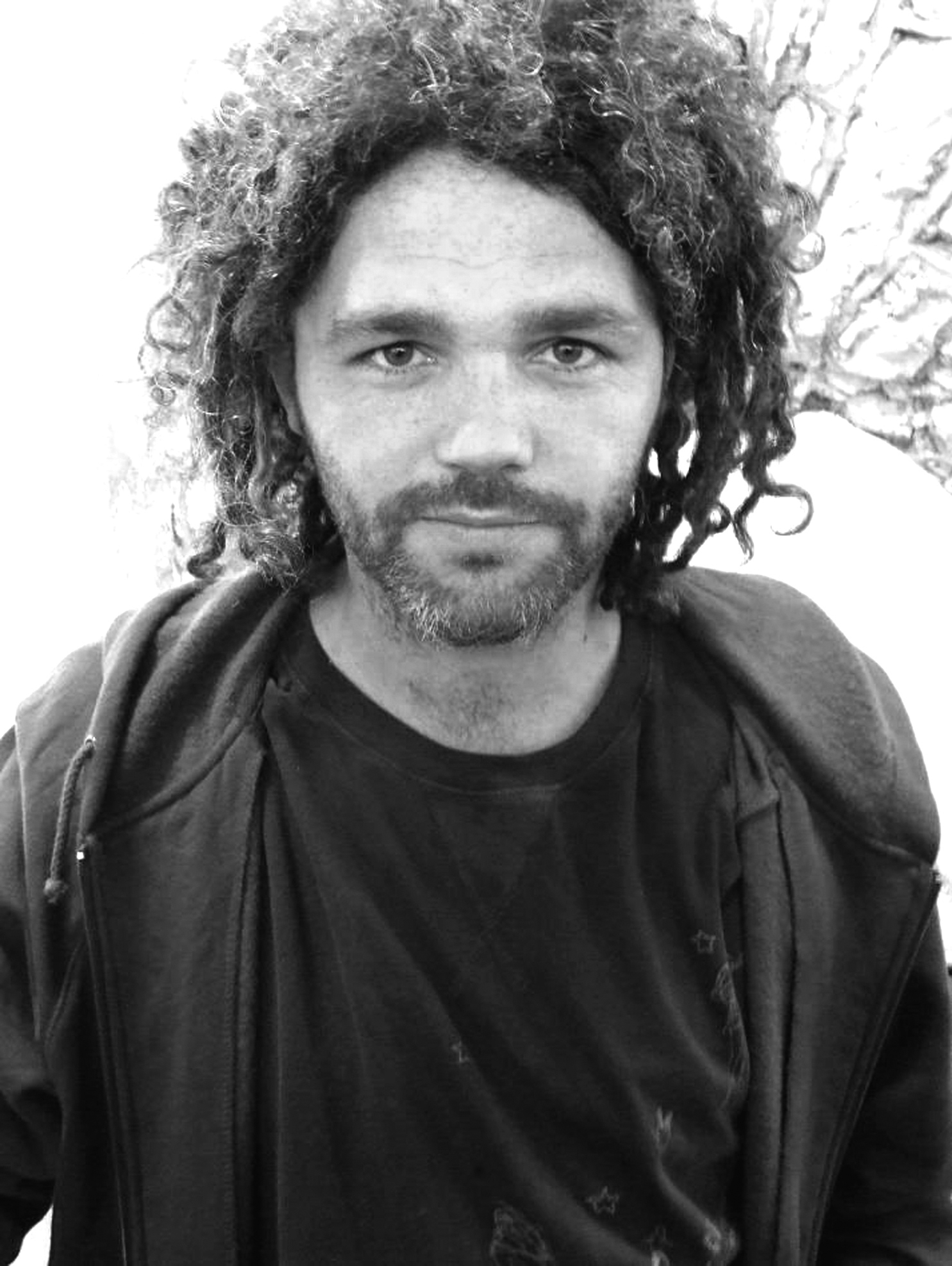 Jim McKee
Jim McKee is a renaissance man, a singer, a songwriter, a musician, a bit of a philosopher and very much a visual artist.
He was born in Cookstown County Tyrone in 1970 the heat of the troubles. Some of the violence and incidents and hatred he witnessed in those days haunt him still and memories and evocations of those dark and troubled times are occasionally recorded in his songs and paintings.
For some ten years now, he has lived in the Burren. It has become his spiritual home, a major factor in his life. He finds inspiration all around him... in a cluster of wild flowers, a bend of the lane, a corner of a bog, a tractor in the landscape, Boats at rest at the quay, the colours of the Burren.
He has a story for every painting and each one is important to him. His images are emotional and enthusiastic responses to his surroundings. There is a wonderful spontaneity about his work, as he sculpts with paint while recording and capturing that magical moment that triggered off the response. Some locations in his paintings are identifiable, but most are quiet little corners he has discovered himself.
He is self taught and is fearless with paint. He has developed, in a short space of time, a personal and recognisable style, imbued with life and energy and colour. He uses a palette knife, virtually playing the oils like a musical instrument, and the results are humorous and honest, impressionistic renderings and reflections of Ireland today, its passing traditions, its people and its landscape.
His portraits are strong in expression, vibrant in colour and invariably of subjects who have made a major impact on his life.
---
From the Hearth - Exhibition 2008
This show is dedicated to the memory of Joe and Dan McTaggart, who lost their lives at sea in the Isle of Lewis, Scotland in a canoeing accident on 3rd June 2007.
Dan was 12, his Father's shadow; always fixing things. Joe was 59, an artist, sculptor, crafter, builder, husband and a man of devout Christianity. Dan was lost at sea for 3 weeks.
I was in the middle of painting for this show when this tragedy occurred. One of the paintings "Cry Like a Dove" is in their memory. Dan was my son's uncle and hero, he introduced my son Dualta to power torching toast with chocolate spread in grandpa's workshed. Joe, at 59 drove motorbikes high in the mountains in Gran Canaria. They were drowned where Christianity was brought into the Isle of Lewis by St. Brendan's boat.
In Dan's room, whilst he was lost at sea, his bible was open at a page where there was a quote: "Cry Like A Dove, in the best years of your life".
No.10 "Man of Stone", is a tribute to the late John O'Donohue. Painted after a visit to Corcomroe Abbey on the day he was burried.
No.16 "Bád Móna", was inspired by a woman who told me her mother used to unload Turf Boats in Connemara - all she had to eat all day was bread and water.
---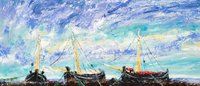 From Connacht
20x48in
Oil on Canvas
€ 4,000
Solo Exhibitions
April 2004 "Into the West", Fleadh na gCuach Music Festival,Kinvara, Co. Galway
October 2004 "Under a Galway & Clare Sky", Bold Art Gallery, Galway
December 2005 "Galway Night & Day" Ard Bia Gallery, Galway
July 2006 "Fadin' " as part of Project '06 Festival Arts, Galway
December 2006 - Selected Works Ail Ruin Gallery, Clarinbridge, Galway
May 2007 Munster fine Art Gallery, Adare, Co. Limerick
Selected Group Shows
November 2003 "Scapes" with Manus Walsh, Rita Wobbe, Mary Naden-Nicolls, Merriman Hotel, Kinvara, Co. Galway
December 2004 "Flaggy Shore Revisited" Russell Gallery, Newquay, Co. Clare
Summer 2005 "Clare Artists" Glór, Ennis, Co. Clare
February 2005 "Rough Diamonds" with Ronnie Graham, Feile an Phobails Feile, Belfast
August 2005 - "Rough Diamonds", with Ronnie Graham, Tuam Arts Festival, Co. Galway
Summer 2005 "Over the Wall" with Paddy Burns, Leslie Cherry & Ronnie Graham, West Belfast Festival
March 2006 Farm Lane Gallery, Moycullen, Co. Galway
Summer 2006 An Bhoireann, Galerie Pomie, France
July 2006 "Horsing Around", Kenny Gallery, Galway
December 2006 "x4", Kenny Gallery, Galway
March 2008 "Rough Diamonds", with Ronnie Graham, Théâtre le Colisée, Lens, France
Selected Collections
Bank of Ireland, Galway
Eddie O'Sullivan (Irish Rugby Manager)
David Bellamy (Botanist/Environmentalist)
Frankie Gavin (Musician)
Mary Coughlan (Musician)