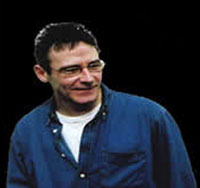 Bobby McLean
Bobby McLean was born in Glasgow, Scotland in 1957 and according to himself, had an undistinguished career in school and an equally undistinguished career as apprentice printer, bricklayer and line-man with British Rail.
He enrolled as a student at Glasgow School of Art in 1985 and graduated with a BA honours degree in fine art in 1989.
Bobby painted in Glasgow for a year before coming to Ireland.
He was invited in 1990 for a two-week period to show a selection of landscape work at the Eigse arts festival and he has been in Carlow ever since.
Bobby was awarded an artist-in-residence position from the Irish Arts Council in 1992.
He has exhibited in Waterford, Dublin, Belfast, Galway and Scotland and has been acclaimed by regional newspapers with excellent critical reviews.
---
Images from an Elephant High-Rize
I have been giving birth, so to speak, to this work for the past two to three years. The theme of the elephant in an urban setting was expressionistically inspired by a series of surreal images that occured spontaneously in my mind.
I have tried to keep most of the paintings minimalist, to let the paint speak through each image. Colour, once again, being the profound expression of my inner being.