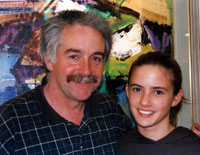 John McNulty
Born in Dublin in 1949, John studied at the National College of Art and Design in Dublin and at the Etching Centre in Geneva.
Most of John's etchings, about 150 editions by 1994, have been published by London Contemporary Art and marketed worldwide through their dealerships. The main markets have been in the United States and Japan.
From 1979 John has worked with three main themes; landscapes, seascapes and sporting images. The sporting subjects are golf and yachting.
John has worked in the following studios; Centre de la Gravure, Geneva, Switzerland, Atelier Raymond Mayer, Lausanne, Switzerland AGB Graphics, Madison, Wisconsin, USA Graphic Studio, Dublin. John has work also in his studio in Co. Mayo.
John's work has appeared in the films "Wall Street" with Michael Douglas and "Regarding Henry" with Harrison Ford.
Exhibitions include:
Listowel International
4th Miami Print Biennial
Irish Art Fair, Milwaukee
Chosy Gallery, Madison
Soll Graphics, Philadelphia
Yugoslavian Print, Biennale
Project Gallery, Dublin
Bradford Print
Claremorris Gallery
Biennale
Oireachtas, Dublin
Setanta Gallery, Dublin
Lincoln Gallery, Dublin
Stone Art Gallery, Spiddal
GG Gallery, Galway
International Art Fairs include:
Basle
Tokyo
New York
Brisbane
Collections include:
An Taoiseach, Albert Reynolds
Irish Diplomatic Corps
Jury's Hotel
Sears, Chicago
Norwich Union Insurance
Marine Midland Bank, New York
Carter Wallace
Metropolitan Insurance Co.
Smith Barney
Amoco, London
Atlantic Insurance Co.
ARB Council of Ireland
Glaxo, London
American Express
HRH Duke of Edinburgh
Bank of Scotland
IBM
Sainsburys, London
Unisys Computers