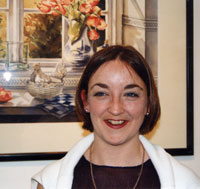 Nina Patterson
"I work mostly in watercolours because I love this medium. I feel watercolours catch the light and mood, there is no second chances and no scrubbing or rubbing. I like the clarity and crispness of the pigments in watercolour allowing the light of the paper creep through (when all goes according to plan!). Watching other watercolour artists work is a real treat for me, though absorbing, I always love to see how varied everyone's use of the medium is. As for learning about watercolours, it's never ending.
My favourite piece in this body of work is, ''Moored, Roundstone Harbour''. I was lucky enough to see this boat moored one idyllic evening in Roundstone. It was a calm evening when all seemed hushed, even the seagulls. I hoped to catch the striking tranquillity of the scene and hope you enjoy looking at this piece as much as I enjoyed the peacefulness of the moment and executing the piece itself."
BACKGROUND
Nina was born in Dublin and comes from an enterprising family. Painting from an early age, Nina studied under contemporary artists and craft workers but is largely a self taught artist.
Nina has been painting professionally full time for seven years, exhibiting for the first time in the Solomon Gallery's Christmas exhibition 1989, where her work was received very well. Since then, Nina has been building a reputation exhibiting in galleries throughout the country, building a reputation.
In 1998 Nina set up her own studio, "Artworks Studio", Celbridge, Co. Kildare where she now teaches and works from.
STUDIES

1988
Studied under John Skelton for a year including a year week long residential course in Dingle Co. Kerry
1989
N.C.A.D. life - drawing course under Trevor Geoghegan including a week long outdoor course in Blessington Co. Wicklow
1995
Marlay Park courses in ceramics with Frances Desmond
1996
Helena Brennan course on ceramics, Dun Laoighre
1996 - 1997
Crafts Council of Ireland/Kildare County Enterprise Board Craft Business Programme
1998
N.C.D.A. ceramics course under Paul Martin
1999 - 2000
National College of Ireland Certificate in Business Studies



EXHIBITIONS

1991 - 1992
Royal Hibernian Academy of Art, Dublin (Open Exhibition)
1993
Iontas Small Work, Sligo (Open Exhibition)
1993
Clockhouse Gallery, Cork
1994
Garter Lane Arts Centre, Waterford
1994
Kilcock Art Gallery, Kildare (Christmas Exhibition)
1994 - 1995
Ulster Arts Small Works Exhibition, Belfast
1995
The American Embassy Peace Exhibition
1995
Kilkenny Design Centre, Kilkenny
1995 - 1998
Dunlavin Arts Festival, Wicklow
1996 - 1998
An Damhlann, Spiddal, Galway (Inc. Joint Exhibition 1997)
1997 - 1999
Kinsale Art Gallery, Sligo
1997 - 2001
Taylors Gallery, Sligo
1989 - 2003
Solomon Gallery, Dublin
1999
Artworks Studio, Celbridge, Co.Kildare
(Solo Studio Opening Exhibition)
2002
Showcase, R.D.S. Dublin
2004
The gallery Greystones, Wicklow (Christmas Exhibition)
1998 - 2005
Abbey Art Group, Celbridge, Kildare
1991 - 2005
Dublin Painting and Sketching Club, Dublin
1991 - 2005
Kenny Gallery, Galway (Inc. Solo Exhibition 2000)
1991 - 2005
Watercolour Society of Ireland, Dublin
1994 - 2005
Association of Kildare Artist, Maynooth College, Kildare
1996 - 2005
Tuckmill Gallery, Naas, Kildare
1997 - 2005
Lavit Gallery, Cork (Inc. Solo Exhibition 1998)



COLLECTIONS / COMMISSIONS

1992
Limerick University W.S.I. permanent collection
1992
Team Aer Lingus
1993
Kildare County Council
1994 - 1995
The Art in Golf
1995
The Embassy of the United States of America "Peace on Peace"
1997 - 1998
Boarder Line Artists Agents London
1998
Irish Distillers, Dublin
1999
Dr. Tony Ryan private collection



TEACHING / ADJUDICATION

1994 - 1995
Artist in Residence St. Wolstans Secondary School
1993 - 2005
Privately taught classes for adults and children
1993 - 2005
Art Group Lectures / Demonstrations
1994 - 1996
Adjudicator, Rhone Poulenc's Children's Art Competition
1997 - 1998
Scoil Dara Adult Education
2003
County Kildare Enterprise board Art Experience Programme
2004 - 2005
Dept. Education courses for Primary School Teachers
2005
Adjudicator, John of God's Children's Art Competition
2005
Fas Learning Skills Programme
STATEMENT
"Capturing light on a subject is the challenge for me. Any ordinary subject can be transformed into something extraordinary by incorporating the artists own vision and techniques. My choice of subject matter is quite broad as the inspiration for my work is not so much a specific object or scene as the play on light, creating atmosphere and textures with contrasting soft muted tones. Themes have included still life, interiors, figures and varied landscapes.
Until recently the majority of my work was in watercolour. I found the clarity and crispness of the pigments breathtaking. Transparent colours allow the light of the paper to be incorporated into the tonal atmosphere. This delicate medium does not allow any scrubbing or rubbing there are no second chances. I medium does not allow any scrubbing or rubbing there are no second chances. I find it necessary to map out the steps through which I intend to shape the painting, initially laying fresh bold washes, gradually working in the details.
Tough I still thoroughly enjoy working in watercolours I felt a need for change, diversifying into a totally contrasting medium - oils. Giving freedom to the artist, oils permit the development of ideas, changing and restructuring as the painting progress. I find that the magic and inspiration of oil painting uncovers and transforms subjects that are rarely ever envisaged from the offset.
Watching other artists' work is a real treat for me, I always love to see how varied the use of medium can be. The path of learning is a never ending inspirational route which I hope to seek out more enjoyable hours of painting."