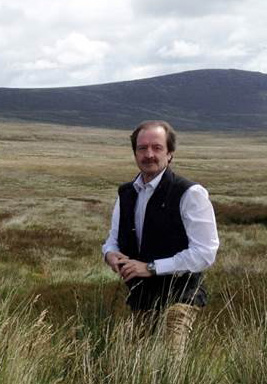 Bernard Reynolds
"The finest contemporary landscape painter in Ireland"
(Dr. James White ~ Former director of the National Gallery of Ireland)
Bernard Reynolds was born in County Sligo in 1952. He lived for a time in Wicklow and in County Galway but now lives in Virginia in County Cavan.
He worked as an architectural draughtsman for six years, but decided to become a full-time artist in 1976.
His work shows a great maturity and command of his materials. His style is individual and the content of his painting is unusual in that he paints the rolling landscape of Cavan.
Reynolds captures the flavour and character of the place rather than being representational. Through his eyes we see the landscape in its various moods. He is always experimenting with new techniques, and has had numerous solo exhibitions throughout Ireland. Reynolds' work is exhibited in various galleries, and is held in many private collections all over the world.
Artist's Note
"I was born in Ballymote Co. Sligo , Ireland. My family moved to Bray, Co. Wicklow where I lived until I felt I wanted to go west. I went to Galway. There I worked in the design section of Udarás na Gaeltachta. This organisation has the responsibility for the economic and cultural development of the native Irish speaking regions of Ireland. My work there involved travel to many remote but wonderful parts of the west of Ireland. I met and married Deirdre in Galway and shortly after I decided I had to paint. I resigned from my job.
As a young unknown painter I was very fortunate to have been accepted into the Kenny Gallery Galway as one of their gallery artists and later was invited to have several solo exhibitions with Kennys.
Since then my work has been exhibited in many group and solo exhibitions including:
One Hundred Years of Irish Art. Dublin.
The Russian- Irish Art Exhibition. Dublin.
"Irish Art, Europe`s Edge". Tromso, Norway
The Royal Hibernian Acedemy. Dublin
Irish Art Exhibition. The World Trade Centre. Boston,The United States.
Trees of Life Exhibition. The Irish Museum of Modern Art , Dublin.
Irish Art Exhibition. The Marco Polo Hotel. Singapore.
A Celebration of the Bog. The Irish Museum of Modern Art, Dublin.

Paintings in collections include;
The Coca Cola Company, Atlanta, USA.
Jefferson Smurfit Corporation.
Eagle Star Insurance Co.
The Omni Marco Polo Hotel, Singapore.
The American Ambassador's Residence, Dublin.
The National Museum of Irish Writers, Dublin,
The British Broadcasting Corporation.(BBC)
Ms Jean Kennedy Smith, Boston, USA.
Mr Liam Neeson. California, USA.
The Embassy of Ireland. Oslo, Norway.
The University of Tromso, Norway.
The Slieve Russell Hotel , Cavan , Ireland.
Rosie O`Grady`s New York.
The Archbishop`s Palace, Armagh, Ireland.etc....

I think of my work as a declaration of existence both physical and spiritual.It expresses my interest in all aspects of life and living, whether it is music,art, science, wildlife, folklore etc. All relate to my own sense of place and most especially my native Irish place. Painting is at once, emotional and physical,very intense and demanding. Various ideas are constantly emerging but almost always, I have a clear picture of the finished work. The composition must be just right. The intensity of detail, or lack of it depends on the purpose of the painting or the "story" that is being told. From time to time I find that a painting may take on a life of its own. It may change as I work but more often than not, before I begin I have a completely clear picture in my mind of the finished work and that is where my focus will be throughout. It may be the cluster of white snowdrops beneath the hedge - that touch of pure white light that shows in the darkness signalling winter is past and spring has arrieved,or, the golden glow of a cornfield as it stands before the first cut. I like to suggest that there is peace and tranquillity all around us if we take the time to look and enjoy. But, "Even our sincerest gladness with some pain is fraught" so,quite often, my work suggests the bitter sweet truth of existence.