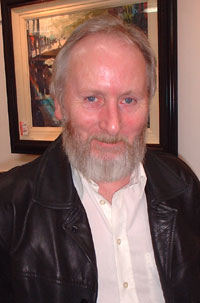 Kieran Tuohy
Kieran, a skilled craftsman, has unearthed a medium from the bogs of Ireland through which he has reflected many mystical and remarkable images. His inspiration stems from his great love of Irish history, his attentive ear to old historians and his dedicated study of wood in all its forms and intricacies. To him, each tree tells a story and none more compelling than those buried in our bogs over many millennia.
His passion for expressing Ireland's sometimes colourful but most often tragic past is both evocative and exhilarating. Using oak and yew which was some 5,000 years old, Kieran sculpted masterpieces which he exhibited at the dawn of this Millennium - these included some legendary Irish heroes - Setanta/Cuchulainn, Ferdia, Druids, Beggars, Saints and Sinners. His interest in music was truly reflected in his exquisite carving of a group of musicians who today grace a stately home in North America.
This exhibition yet again demonstrates the uniqueness of his craft through which he expresses the enormity of the famine and its devastating consequences for our ancestors.
The emotion evoked in exhibit No 11 "Starving Man and His Four Children" reveals the very depth of his soul. Picture the scene - The helplessness of "The Lost and Frightened". The sorrow that pierced the hearts of those who had just buried their little ones "Under the Hawthorn Tree". The cruel "Evictions" and the curse of "Emigration". The "Potato Blight" coupled with the derisory laissez-faire administration by our wealthy island neighbours - little wonder the natives felt "God was Not Listening".
Kieran depicts life as it was in all its rawness and desperation. He captures the loneliness and degradation of "The Poor House", the quiet anticipation of "The Widow McCormack's Cabbage Patch" and the heartbreak of "Parting" surely a touch of the master's hand.
Ireland's people have never fully recovered from the famine, neither have they forgotten and Kieran's current exhibition ensures that this chapter of our history is preserved for future generations through his sculptures of this tragic event.