SEARCH ARTWORKS BY PAULA POHLI >>>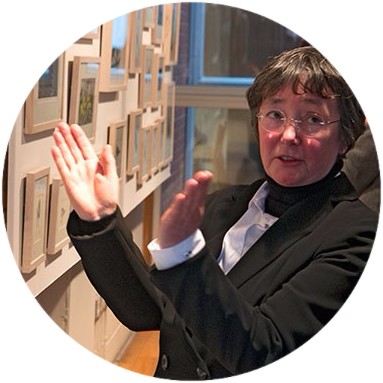 Artist Paula Pohli is a native of Dublin. She was educated there and in Canada. In 2011 she moved to County Mayo. She makes linocuts since 1990 and she also paints in egg tempera since 2012. Brush and pencil drawings also form part of her extensive artistic output.
Prints: Paula makes handburnished linocuts in low editions in black and white and in colour. These prints are cut, carved and printed by hand on watercolour papers without the aid of a printing press. To date in 2016, her prints have been exhibited in over 28 International Print Biennials in the US, UK, Egypt, and Bulgaria and recent paintings and prints have won awards in US Galleries online and offline, in the Canadian Art Magazine Art Exhibeo, and third prize in the 3rdInternational Footprint Biennial in Connecticut, USA, in 2012.
Exhibitions: Paula has exhibited in Ireland since 1990 -
4 soloshows in Dublin (including two in darc space gallery, Dublin)
2010: ArtLino and 2015: Lino & Egg
2004: "Imprint" Bank Of Ireland Arts Centre, Dublin.
2001 National Concert Hall Dublin
Groupshows in the Graphic Gallery, SO Fine Art, The Bridge gallery, RHA, Royal Ulster Academy, and she also exhibits prints in the Printmakers Gallery, Kennys of Galway, Gormleys of Dublin, with prints and paintings in the The Cong Art Gallery and in groupshows 2015 in the Claremorris Gallery, County Mayo.
Internationally Paula exhibited in 5 solo shows abroad : in Holland, Germany and Three Print Presentations in the US in June 2012. A highlight was "Recent Linocuts" in the Center for Contemporary Printmaking in Connecticut and two more in New York, USA. She exhibited prints in group shows in the National Centre for Performing Arts in Beijing, China in 2011 and 2012.
Collections: her prints are collected by many collectors in Ireland, UK and the US. Paintings and prints features in public collections too: AIB, OPW, Wexford Art Collection, Mater Hospital, Beaumont Hospital, UCD and Tallagh IT Dublin, Danish Art Society, Copenhagen, Library of North Carolina University.
SEARCH ARTWORKS BY PAULA POHLI >>>
---
Style
Stylistically she was influenced by the careful use of Composition in the prints or drawings in the art of past and modern Far Eastern printmasters (Japan and China). The strong colour palette of the German Expressionists, the black and white Graphic art of "Die Brücke", the woodcuts of Lyonel Feininger and the playfulness of Paul Klee where strong connections for her art.
Motifs
The landscape Lino prints are based on motifs from Ireland and NorthWestern Europe. Cities like Dublin, Cologne and New York have inspired me. Recent linear prints, "Playing with Pythagoras" are playful Lino drawings.
Technique
All of her prints are hand produced, from the initial drawing through to the block cutting and printing stages. No computer drawings are used and no mechanisation is involved in printing images onto paper. Each print is hand pulled.
Inkmaking
Furthermore since 2001, she produce most of her own colour printing inks. Using mostly synthetic organic powder pigments and natural binders. This adds another layer of artistic control. The final colours of the prints are usually a blending of 3, 4, 5 or 6 different powder pigments. No dryers, additives, preservatives, or alcohols are used. Therefore some prints take 3-4 months to dry especially the red pigments. Printing by hand creates a chunky, impasto texture.
Printing
As each print is produced individually, small variations in the editions are probable. The mixing of 2-5 different pigments will of course lead to variant tones of colour during the different stages of printing.
Editions
Each print is unique but part of an edition. Editions are usually low: 1, 5, 7, 10, 15, 20, 25, 30. Handburnishing marks are visible on the reverse of the Lino prints.
Biography
Paula was born and educated in Dublin. She studied part-time at the National College of Art and Design, Dublin, at University College Dublin and in Canada. She attended 5 years the Goethe Institute, Dublin, learning German (3 certificates). She studied with Cert/Fáilte Ireland (with Distinction).
Paula discovered Lino block printmaking 1987. She began exhibiting some of her Lino prints in Dublin and in Galway 1990. She worked fulltime in Trinity College, Dublin1988-1992, on the Long Room project (Book Restoration) she gave myself a long and careful printmaking apprenticeship.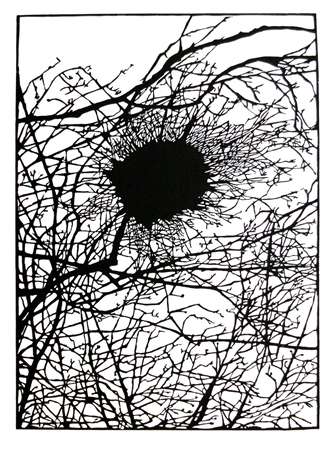 SELECTED SOLO EXHIBITIONS
2009
Imprints 2, Dublin, Ireland
2004
Bank of Ireland Arts Centre, Dublin, Ireland
2003
Gallery De Ploeg, Groningen, Holland
2001
National Concert Hall, Dublin, Ireland
1995
FrauenLiterarisches Café, Wuppertal, Germany
SELECTED GROUP EXHIBITIONS
2009
Contemporary Art Network, New York, NY
Summer Print, Dublin, Ireland
2008
United in Art - art of the British Isles and Ireland, Agora Gallery, New York, NY
Off the Wall/Little Christmas showa at Graphic Studio Gallery, Dublin, Ireland
Treat : Talbot Gallery Dublin, Ireland
Royal Ulster Academy Annual exhibition, Belfast, Northern Ireland
Lessedra 7th World Art Print Annual Exhibition 3 prints, Bulgaria
Adam's Irish art auctions April 8th and June 12th, Dublin, Ireland
Ice, Water and Oil Gallery, Minnesota USA
2007
Adam's Irish Art auctions, Dublin, Ireland
Treat, Talbot Gallery Dublin, Ireland
Christmas Show, Graphic Studio Dublin, Bridge Gallery, Dublin, Ireland
Fächer/ Fans, Cologne Graphic Studio, Cologne, Germany
6th Lessedra World Art Print Annual, Bulgaria
Small Print Big Impressiion: International Mini Print exhibition, UK
6th International Miniature Print Biennial,Centre of Contemporary Printmaking, USA
Impressions, Galway, Ireland
2006
Postcard Show, Surface Gallery, UK
3 person Exhibition Atrium Gallery, Longford, Ireland
PRINTS: invited Groupshow Bridge Gallery, Dublin, Ireland
2005
Iontais, Small Works exhibition, Sligo, Ireland
2004
Figurative Art Fair:12 invited artists Town Hall Dun Laoighaire, Dublin, Ireland
2003
Gallery Iliev, Cologne, Germany
Surface GalleryPostcard – Christmas show. UK
Christmas Show, Graphic Gallery /Bridge Gallery, Dublin, Ireland
Lemon Street Gallery, Dublin, Ireland
2000
Microsoft works show - invited artist Dublin, Ireland
2000 -1995
Christmas shows/summer shows Dublin,Kennys, Galway, Ireland
Claremorris Open Mayo .Scarborough Open Print show UK
Monagahn Open exhibition Monaghan
1993
Royal Hibernian Academy Annual Exhibition Dublin, Ireland
Iontais Exhbition, Sligo, Ireland
Monaghan Open Exhibition Monaghan, Ireland
1992 -1990
Oireachtais curated Dublin
Royal Hibernian Academy Annual Exhibtion Dublin, Ireland
Iontais Sligo and Dublin Graphic Gallery, Ireland

AWARDS
2008 Dublin Corporation grant
1993 Goethe Institute language study Bursary in Germany
1995 Arts Council Materials award

PUBLIC COLLECTIONS
Allied Irish Bank modern art collection, Office of Public Works - state of the Art collection
Mater Hospital , Tallagh Institute of Technology, University College Dublin,
Holles Street Hospital Collection,Tralee Institute of Technology,
University of North Carolina USA,
Schools in Dublin and Bray-
PRIVATE COLLECTIONS
Dr Eddie MacParland TCD, Marianne Hartigan of the Sunday Tribune,
Ellen Rowley and friends, Yumiko Kameda, Dr Cyril Smith, John Cardy,
Juliet O'Reilly, Michael O'Reilly actor, Mrs J Breathnach, Michael Hickey,
Breda Mayock , Anna Butler. Ms Jenny O'Leary and friends.
Laura and Daniel Blair USA etc.