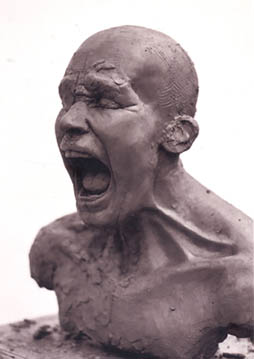 Mel French is a full time practising artist. Her practise is divided between public and private commissions, memorials and work for exhibition.
She has been an invited artist for exhibitions such as the "Annual Exhibition at The Royal Hibernian Academy" in Dublin and "Sculpture in Context" in Dublin's Botanical Gardens.
Mel works in a variety of medium including bronze, stone, steel, cement, plaster and resins.
Mel's public commissions are site specific according to each brief and her exhibition work references social and psychological issues.
All of Mel's sculpture malgamate traditional skills with contemporary concerns.
_______________________________________________
Mel French gained a first class honours degree in Sculpture from The National College of Art and Design in 1997 and a first class Masters in Sculpture (cum laude) from The New York Academy of Art in 2003.