CHRISTOPHER BANAHAN – Galway 4040/Remains of Us - from 21 April
Opening Friday 21st April (running for 4 weeks).
Galway in the year 4040 has been re-discovered like a 'lost Pompeii' or 'Atlantis' by divers as the city we know had long been sunk under rising sea levels. The archivists of the day have to determine who the people were or what lives they might have lived, through the visual puzzle of their fresco portrait fragments. Hence their original identity is lost and judgement is made on their appearance only. Therefore famous iconic faces of present day Galway are deliberately mixed up with less familiar faces. Even though the exhibition is homage to the everlasting Cultural life of Galway, it is also an exhibition that addresses issues of identity and how we all fall into the visual trap of judging a book by its cover particularly when we first set eyes on someone.
The only drawback to the project, is the fact that we are in present day Galway and can easily identity well-known iconic faces like Michael D Higgins in the exhibition. To encourage the viewer to look at the portraits with a futuristic gaze/perception, the artist has deliberately titled all the portrait subjects with future archivist's hypothetical names to identify who they might have been in life... However, some less enigmatically entitled study paintings are also present. The exhibition was also inspired by Mervue Portraits Poems written by former Galway Poet in Residence Michael O'Loughlin, who wrote poems based on a series of Mervue Residents portraits that the artist made for a Galway City Council commission in 2009.
Christopher Banahan studied for an M.A. in Fine Art at London's Goldsmiths College in 1982-4 and won a Rome Scholarship in Painting at the British School of Rome 1990. More recently he gained an M.A in Production and Direction from the Huston Film School, NUIG Galway 2013. His work can be found in the collection of the Arts Council, The AIB Bank, The OPW and The European Central Bank. Christopher lives and works in Kinvara, Co.Galway.

---

MICHAEL FLAHERTY – Another Version of the Happy Ending | New Paintings – from 26 May
VIEW THE ENTIRE COLLECTION >>>
Images are Flaherty's language, which he creates with fiery poetic incisiveness. His energetic brushstrokes freeze-frame nature, form or matter in motion. He speaks in spirited, lustrous, colour.
He paints the wind harrying the waves, frost biting the furze and "the murmur of stones". His paintings can be sensuous and vibrant, august and timeless, meditative and still; and they are, also, gifts of hope.
And the painting calls to its buyer. It chooses us. It is we who are owned.
***
Michael Flaherty was born in Cloghane on the Dingle Peninsula, County Kerry in 1950. Michael studied in Maynooth, Cork and Sligo before returning to Kerry in 1989. Here he developed his distinctive style of painting to convey his love of the Kerry landscape. His work has featured in many group and solo shows around Ireland, Britain, Europe and the USA. His first exhibition with The Kenny Gallery was in 1990.
His work is represented in public and private collections including Irish Life, ESB, Dublin University, Kerry Food, various Government Departments, New York University and Commerz Bank of Frankfurt.
VIEW THE ENTIRE COLLECTION >>>
---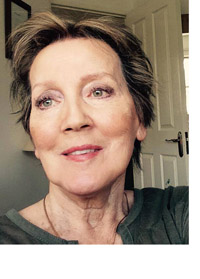 Selma McCormack – Full Circle, new paintings & sculpture | 23 June - 20 July
It is twenty-five years since The Kenny Gallery first exhibited the sculpture and paintings of Selma McCormack. To coincide with this noteworthy anniversary the recent past has seen a renewed creative impetus as the artist recovered from serious illness.
Gripped by an almost cathartic addiction, Selma McCormack worked through this recovery with the energy of her early career.
An abstract colourist, Selma paints from something of a purposeful impulse - directing her brush in search of herself. She vents her subconscious with energy and immediacy. but her work always follows - and must satisfy - her own aesthetic. So in this way, a blast of expression is directed and carefully curated by the artist's eye, and must harmoniously 'ring-true'.
In work reminiscent of artists from Rothko to McSweeney she revels here in expressing with paint the transcendental essence of nature, of turbulence, of lost places. Her images have a deep sensitivity suggesting themes beyond the surface.
If her paintings tend to the overused term 'abstract' then her sculpture, her first true love, is certainly 'figurative'. Perhaps the technical use of her media - mostly clay brought to either a cast bronze or fired ceramic finish - force a slower consideration than her painted artwork.
We see masterfully realised dancers, bulls, gymnasts and equestrian pieces, and although more immediately decipherable than her paintings they are ironically more at hands length than the intensely personal expression of her paintings. Her delicately poised figures, her weighty bulls are talismans - they embody and stand for moments in time, of actions, of relationships, and even states of mind.
Originally from Galway, Selma has been based in Dublin for some years. This welcome return to the West of Ireland, of both artist and artwork is a remarkable 'Full Circle'
VIEW THE 2017 EXHIBITION 'Full Circle' >>>
---

WEBB, A CELEBRATION | KENNETH WEBB & SUSAN WEBB – from 21 July
Webb - A Celebration
The paintings of Kenneth Webb & Susan Webb
A 64-year relationship between an artist and a gallery is rare but that is how long the painter Kenneth Webb and the Kenny Gallery have been working together. Since he first walked in their door in Galway, both the gallery and the artist's work have gone through many changes. He has painted his way through a variety of themes and has a world-wide reputation. In all those years there has always been one constant in his work, colour!
For Webb, even at 90 years of age colour is still fresh and magic and exciting and induces in him great bouts of painting. When an idea comes to him he cannot wait to get it down on canvas. His work has been described as 'homage to the secret life of colour'. He is a dedicated painter who is constantly driven to bold new experiments in paint.
He started to teach his daughter Susan to paint when she was about three years old. She was a keen learner and held her first solo exhibition when she was just eighteen. Since then she has developed a serious reputation as an accomplished artist who specialises in equestrian paintings and studies of animals. She has been the recipient of many important commissions and still manages to find time to run The Irish School of Landscape Painting from her studio in Ashford, County Wicklow.
This exhibition includes a return to some favourite subjects for Kenneth, the bogs and bog pools, the wildflowers and rocks of Connemara, and for Susan it is a series of images of horses racing, hunting, grazing, ponies in the landscape etc. Finally, a painting by 17-year-old Tanitha is proof of her grandfather's and aunt's ability to pass on the gift to the next generation.
---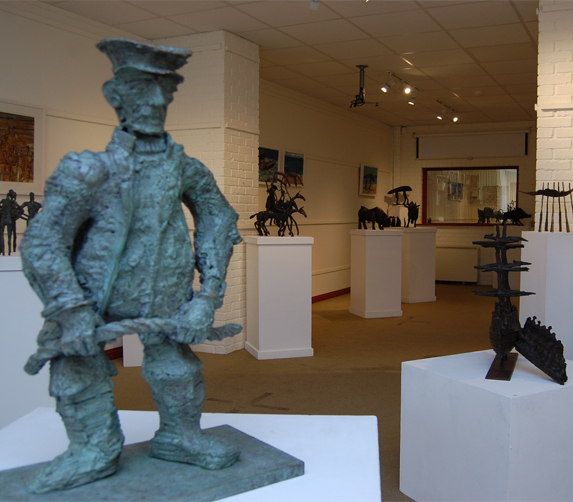 JOHN BEHAN RHA – New Works – from 13 October
JOHN BEHAN is one of Ireland's leading artists. His first exhibition in Kennys was in 1970. He is an artist's artist, a modest man with a terrific work ethic who has had solo exhibitions in virtually every corner of this country. His reputation extends well beyond Ireland's borders and his public sculptures feature in many countries throughout the world. He is a great traveller and invariably brings back ideas and images from whatever country he has visited and he combines these 'foreign' influences with his own highly personal interpretation of Irish mythology.
VIEW THE ENTIRE COLLECTION ONLINE NOW >>>
VIEW Exhibition Catalogue (PDF) >>>
---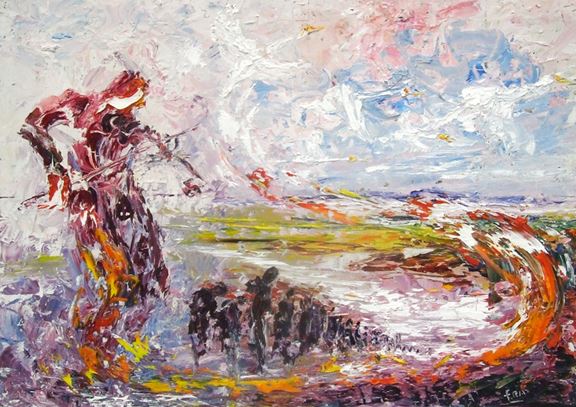 FRAN McCANN – New Works – from 24 November
FRAN McCANN grew up in Belfast and always loved art. His day job took him abroad for many years, but he never stopped drawing and painting. He eventually moved back to Ireland with his family and established a school of painting in Gort. He has had numerous exhibitions here and on the continent. He works in great bursts of energy, always with a palette knife. He is a good musician and many of his images have a musical theme, sometimes Jazz and sometimes traditional Irish music. In recent years, the landscape of his hinterland has also become a feature of his work.
---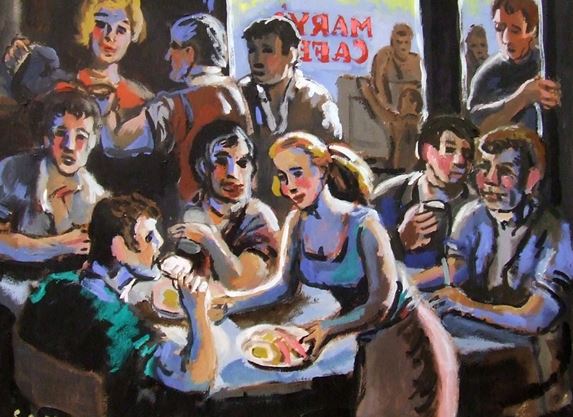 BERNARD CANAVAN …Spring 2018
Bernard Canavan was born in Co. Longford. His family had a small shop, but they lost so many customers through emigration in the 1950's, that they were forced to emigrate too. He went to Britain and because of his interest and ability in art, he began to record, in paint, the Irish emmigrant experience there. There is nothing romantic about his paintings, these are raw images of navvies in trenches, on diggers, in open trucks, in the pub, of women in the cafe, in the dance hall, in the bus queue, of nurses in the nurses home etc. This exhibition will also focus on 1950's Ireland, the very unromantic place these emigrants left behind.
& other events to be announced…