Behan RHA, John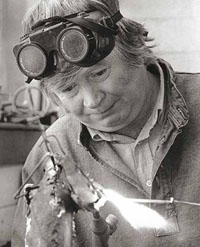 Born in Dublin in 1938, and now living and working near Galway city where he continues to vary his style of expression, John Behan is firmly established as a sculptor of international stature.
After an apprenticeship in metal work and welding, the foundations for Behan's success were laid in the sixties, when he trained in London and Oslo and began to exhibit widely. But he also had a wider artistic vision, which saw him challenge the elitism of the art establishment and seek to popularise art. He was a founder member of the New Artists' group in 1962 and Dublin's innovative Project Art Centre in Dublin in 1967.
He has been awarded many honours and became a Member of the Royal Hibernian Academy in 1990, having been an Associate of the Academy since 1973. He is also a member of Aosdána.
Celebrated for his early bull sculptures - described by playwright Brian Friel as 'enormously solid artefacts, 4-square on the earth, confident, assured, executed to a point of absolute completion' - Behan's style is still evolving and growing. In a general sense he can be credited with playing a major part in the development of sculpture in Ireland over the last forty years.