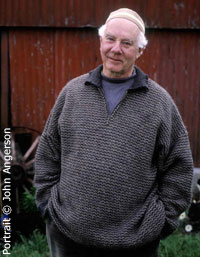 Mike Absalom
Mike Absalom is an Irish painter and printmaker. He was born in England and educated and brought up both there and in Canada and Sweden. His family roots are in Wales and County Clare. Mike has lived and worked in many parts of the world including Greece, France, Spain, Germany, Iran and Paraguay. He now lives in County Mayo where he has his studio and print workshop.
In the early Seventies Mike delighted highly amused crowds with his madcap satirical road shows and performances of songs from his legendary LPs "Hector and other Peccadillos" and "Mike Absalom". After 25 years spent in Canada and Paraguay as broadcaster, children's entertainer, puppeteer, harpist, fiddler, Celtic band leader and poet, Mike toured the United Kingdom in 2002, sold up in the New World and returned to reconnect with his Welsh and Irish roots on this side of the Atlantic.
During the past five years his paintings, linocuts and dry point etchings have been exhibited widely in Wales, England, Northern Ireland, the Republic of Ireland and China. Mike is an accomplished and challenging figurative painter, but is best known for his haunting Mayo landscapes and his unsettling architectural studies of streets and villages in Yorkshire, Liverpool, South Wales and the West of Ireland. His work has been purchased by public bodies as varied as Westport Town Council and Ireland's Office of Public Works.
In his partly abstracted acrylic landscapes and his off balance treatment of perspective in townscape and architecture movement and change are central themes, as they have been in his own eclectic life. His human subjects, mythic or stereotypical, are constantly in motion. If they appear still then their environment often moves around them. In these paintings buildings can come alive while people are often little more than blocks and stones and senseless things. He calls it Mayo Expressionism.
Silent Belonging - Exhibition Statement
In the autumn of 2007 I spent a number of weeks visiting the remote Mullet Peninsula in the Barony of Erris. The purpose of the visit was to investigate the changing identity of the enclave and express it visually in pictures. My means of entry was as a musician, my old and long neglected trade. The fruit of my experience there is a series of paintings, The Peninsula, currently on show in Liverpool as part of Liverpool, European Capital of Culture 2008.
However, once started into this seemingly objective inquiry, it became clear to me that the focus of my work always returned to my own uneasy preoccupations with identity and I found The Peninsula too small a geography to contain all the dark emotional terrain I wished to explore. I needed space. I needed silence.
Finding identity in my old trade was on my mind forty years ago when I came this way as a touring musician, carrying a guitar, a fiddle, and a trunk full of stage pyrotechnics. I was on the road and I was gigging. Round and round I went, from Larne to Belfast to Coleraine to Dublin to Cork to Galway and through everywhere in between. It was a noisy investigation of my roots.
Today I am retracing those old roads in a different way. The music is laid aside, and the big bangs too. There are no roaring audiences and no instant feedback. My performance is silent. It is a watching brief which reintroduces the familiar but also lets me descend without terror into quiet places I have in the past preferred to avoid. It is a means of passing lightly towards a sense of place and the memory of belonging.
I present in this exhibition Silent Belonging a series of acrylic paintings that represent some of the places I have revisited during the past twelve months. Racecourses, city streets, music sessions, pubs and the people in them, all described in ways I could not have imagined forty years ago when I was a noise maker rather than a silent witness.

23 May 2008
---
Upcoming & Selected Recent Exhibitions
2008
Steps that Lead Nowhere (in the Company of Cows)
Dean Crowe Theatre Athlone 29 February to 15 March.
A Hard Place to Be (The Spaces between the Stones)
Ards Arts Centre Newtownards, NI 6 to 30 March.
The Peninsula (Black Sod and the Mullet Peninsula)
View Two Gallery Liverpool, UK 15 May to 7 June.
A View of the Peninsula Féile Iorras, Belmullet Arts Centre 27 June to 25 July.
A Game of Cards Kenny Art Gallery, Galway 6 to 20 June.
Liverpool Irish Identity: A Painted View Liverpool Everyman Theatre, UK October.
The Peninsula II View Two Gallery Liverpool October.
(Both shows in conjunction with Liverpool, European Capital of Culture 2008 and the Liverpool Irish Festival)
2007
Cead in China Shanghai. Touring print exhibition sponsored by the Department of Foreign Affairs.
Cutting the Surface: Woodbine and Black Plastic Printmaker of the month, Wrexham Arts Centre, UK.
Stones That Remember Me Clotworthy Arts Centre, Antrim, NI; Island Arts Centre, Lisburn NI.
A Passport to Vagrancy Dame Street Gallery, Dublin.
Recent Irish Paintings Dean Crowe Theatre, Athlone.
My Irish Eyes on Liverpool Again View Two Gallery, Liverpool, UK.
A Hard Place to Be (The Spaces between the Stones) Ballina Arts Centre, County Mayo.
Country Life Charlestown Arts Centre, County Mayo.
Awards/Scholarships
Abbot Exhibition to St Catherine's College, Oxford. Canada Council Scholarships (2) to pursue studies in Asuncion, Paraguay. Government of British Columbia (Canada) Artist in Residence Grants (13). CCTE Grant to lecture in Calgary (Alberta). Artist in Residence at Heinrich Böll Cottage, Achill Island, County Mayo.
---
Artist's Statement 2007
"I paint because I am a coward and enjoy too well the familiar mask the world wears on an average working day. I know this mask covers an illusion that some have seen through, and I know it is my duty to see through it too, but I find it hard to get past the surface of the ingenious canvas on which it advertises itself. I think that human nature generally clings to safety and so do I. A world I can reach out and touch retains a certain maternal cosiness that is very difficult to relinquish. For 40 years I hung on to it like a cat up a poplar tree and I lived as a musician and turned illusion to my own advantage, and was loved. But of course, I never saw the real trick that is played upon us, nor how it was done. Then I hung up my harp, which was getting too heavy to carry anyway, and began to paint.
Painting, on the surface, is a lie and an illusion so blatant that it seems safe. It holds out an invitation to internal travellers to dip their toes into the great ocean of another reality without plunging head first into any heavy breakers on the first day and risking a premature annihilation. It seduces with the same velvet and two-faced approach as poetry. It seems innocuous, and indeed it is, if you look it square on, for then you will see nothing but pigment. Look sideways, however, with a little cunning, and if you need to you will catch a glimpse of something very much else. Terrible or lovely, I find it a far more congenial way of seeking truth than flagellation or icy austerities in a Himalayan mountain cave."
Vegetarian Cat - (c) Mike Absalom
from 'Vintage Absalom', recorded in Vancouver, British Columbia, Canada in 1981 and written, composed and arranged by Mike Absalom between 1971 and 1981.