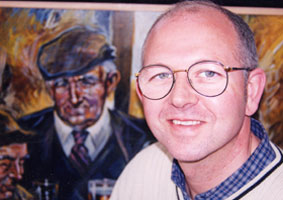 Stephen Bennett
Stephen Bennett was born in London, his father having emigrated from Ardara, Co. Donegal. He graduated with an Art diploma from art college in 1973. Stephen then began him career as an illustrator/visualiser and spent the next 18 years working for leading London advertising agencies such as Saatchi & Saatchi. He left advertising in 1992 to follow his life long ambition of living and working as a painter in Donegal.
"I was inspired by the people of Donegal whom I encountered while on family holidays. I was enthralled by their way of life - hardworking by day in the fields or the bog, but always ready to enjoy themselves at night. The sing-songs, the fiddle music, the storytelling, the dancing and the natural humour of the people made a powerful and lasting impression on me. On these holidays I began drawing my grandparents and their neighbours, especially the old people, for whom I had a great affection. I felt at home here and the urge to come back to live and paint in Donegal was born in these early days."
Having left the constraints of the commercial world behind him, Stephen set out to find his own way of painting. Drawing his inspiration from the people and landscape around him he has developed a vigorous and expressive style. The subject matter of his work is varied, including both figurative paintings and landscapes but he has a special interest in people in their day to day activities. His reputation has grown and he is now an established exhibitor in galleries throughout Ireland.
---
In addition to exhibiting at his own gallery in Co. Donegal on an ongoing basis, Stephen's other exhibitions to date include:
| | |
| --- | --- |
| 2005 | Patrick McGill summer school group exhibition, Glenties, Co. Donegal |
| | Group exhibitions in Blue Leaf Gallery, Dublin; Kennys Gallery, Galway; Lee |
| | Gallery, Cork; Kinsale Art Gallery; Green Gallery, Dublin. |
| 2004 | North West Artist's Exhibition, Sligo Art Gallery |
| | Glebe Gallery Exhibition, Churchill, Co. Donegal |
| | Screig Gallery Summer Exhibition, Fintown, Co. Donegal |
| 2003 | Red Dot Exhibition at the Cristeph Gallery, Letterkenny |
| 2002 | North West Artist's Exhibition, Sligo Art Gallery |
| 2001 | "The Art of Hurling" Group Exhibition at The Kenny Gallery, Galway. |
| | "The Last Rose of Summer" Exhibition at Artist's Resource Centre, Donegal in conjunction with the Derek Hill Collection. |
| 2000 | North West Artists Exhibition, Sligo Art Gallery |
| 1999 | National Portrait Awards Exhibition, Donegal |
| 1997 | Solo Exhibition at An Damhlann, Galway |
| | North West Artists Exhibition, Sligo Art Gallery |
| 1996 | Solo Exhibition at The Sligo Park Hotel |
| | North West Artists Exhibition, Sligo Art Gallery |
| 1995 | Glebe Gallery Exhibition |
| | Group Show at An Dámhlann, Galway |
| 1994 | Shades of Donegal Exhibition, Letterkenny |
| | The Patrick McGill Festival, Glenties, Co. Donegal |
| | National Portrait Awards Exhibition, Dublin |
| | The No Boundaries Exhibition at the American Embassy |
| 1993 | Donegal Parian China Exhibition of contemporary Donegal artists |
| | Solo Exhibition in the Ulster Bank, Ardara |
| | National Portrait Awards Exhibition, Dublin |