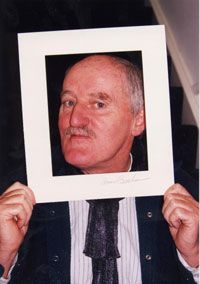 Brian Bourke RHA, Aosdána
Brian Bourke must be considered one of the most significant artists working in Ireland today. In a career spanning over forty years, his output has been enormous. He has worked on a wide range of subject matter, mostly in painting and drawing. His works display a great affinity and sympathy for his subject matter, and above all, a wonderful sense of humour.
Brian has become associated with Connemara where he lives. A place as he puts it, "of small rough fields and windblown trees, very rural, with more horses than people". He has also produced sculpture, working in bronze and in wood. He has had one-man exhibitions in many different locations in Ireland, on the continent, and in Manhattan.
He ventured from familiar landscapes to embrace urban exuberance in an exhibition titled Manhattan Vertigo. The exhibition was described as an enraptured celebration of New York City. The works vividly conveyed the artist's delight with the surreal Lego-land cityscape. His wash drawings have a wonderful freshness and immediacy displaying Bourke's exceptional strengths as a draughtsman.
Brian Bourke was born in Dublin in 1936. He studied at the National College of Art & Design in Dublin and St. Martin's School of Art in London. He represented Ireland at the Paris Biennale and the Lugano Exhibition of Graphics, both in 1965. He won the Arts Council portrait competition in 1965, the Munster and Leinster Bank competition in 1966, and first prize in the Irish Exhibition of Living Art competition in 1967. In 1985, he was named Sunday Independent Artist of the Year, and he received the O'Malley Award from the Irish-American Cultural Institute in 1993. He is known for his series of mocking self-portraits comparing the artist to Don Quixote. In 1991, he was artist-in-residence at the Gate Theatre's Beckett Festival in Dublin, with accompanying works appearing at the Douglas Hyde Gallery.
His work hangs in many important collections and galleries throughout Europe.