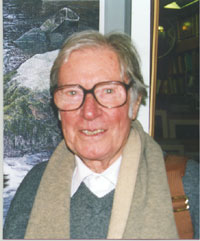 David Clarke (Died - 2006)
David Clarke was born into a family of artists. His father was Harry Clarke, the renowned stained glass artist and book illustrator, and his mother was the painter Margaret Clarke, best known for her portraiture. The Harry Clarke Studios were in North Frederick Street, just around the corner from Belvedere College, where three generations of Clarkes were educated - Harry, David and David's son Rory. The family lived on North Circular Road near the Phoenix Park, David's beloved refuge and university of nature, where he spent much of his childhood and where he walked almost every day.
David was a very fine draughtsman but he was primarily a superb colourist, inducing peace or excitement through cool or glowing colours. There is a subtle influence of stained glass on his painting, giving it what S.B. Kennedy called, "a pristine, at times luminous clarity".
He generally painted in series, exploring his preoccupations and passions to the full. In the sixties his work reflected a quizzical concern with the tragi-comedy of the human predicament; but in later years he tended to focus on things which are in themselves lovely, fascinating and never still, such as kites, rock pools and Criunniú na mBád.