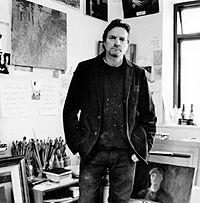 John Connery
It was around 1964 when one evening my father gathered the family together and suggested that, for our summer holidays that year, instead of heading onto the usual Portrush, or Bangor West, or Newcastle, what about going south to Galway? Galway? To me, aged eight or nine, even the name brought to my young mind wild empty boglands, distant mountains, lakes, mystery … The Quiet Man … But it was so far away!
So when Dad unfurled a giant map of Ireland and spread it on the oilcloth floor in the scullery he may as well have produced a map of the surface of the moon. With his finger he traced the suggested route through magical, strange-sounding place names with Galway as the final destination. My mother wondered if it could be done. Six of us and two weeks' luggage crammed into a VW Beetle?
But we did it, and our first two weeks in Connemara heralded the beginnig of my love affair with the west of Ireland. Over the next five or six years we explored Donegal, Clare, Kerry and Cork, looking forward breathlessly each year to our adventures further and further south. In Killarney, aged ten, I painted a watercolour of a beach on the Ring of Kerry and gave it proudly to the lovely lady who ran our guesthouse. Delighted, she gave me a box of Black Magic - which I shared with no one! - My first income from art.
Our sojourns west and south were cut abruptly short when my mother died suddenly in 1969, devastating our family and ending our wonderful holidays. I was twelve then, but the beauty of the west of Ireland had taken root, and in later years I would return - with my own family - at every possible opportunity.
And now I just love to park my car on an evening in Connemara, open the tailgate, get out my paints and canvas and try to capture the colours, the atmosphere, even the smell, of that most unique part of Planet Earth. I have often said that one of the things I will miss most about life on Earth is taking a walk in an Irish bog on a summer's evening, the faint turf smell from a hundred hearths, the silence only broken by a lark high in the sky, the heads of bog cotton nodding in a warm breeze and the sun setting behind the far blue mountains. Heaven.
John Connery
August 2007
---
SELECTED EXHIBITIONS

2006
The Taylor Gallery, Belfast
2005
'Prague II' at Manor Fine Arts, Banbridge
2004
The Taylor Gallery, Belfast
2004
Royal Ulster Academy of Arts, 123rd Annual Exhibition
2003
'Prague', Manor Fine Arts, Banbridge
2003
Royal Ulster Academy of Arts, 122nd Annual Exhibition
2003
The Taylor Gallery, Belfast
2002
Royal Ulster Academy of Arts, 121st Annual Exhibition
2002
'An Insular People', The McGilloway Gallery, Derry
2002
'Under Celtic Skies', group exhibition, Andover, USA
2002
'An Insular People', Manor Fine Arts, Banbridge
2001
'Rhythms of the Land', Solo exhibition, Hillsborough, Co.Down
2001
Group exhibition at the Heritage Museum, Massachusetts
2000
'Irish Contemporary Art', Townhouse Gallery, Belfast
Born in Hillsborough County Down in 1956, John Connery's childhood was divided between sketching the rolling fields of his native county and exploring the boglands of Donegal.
At 18 years, he entered what he now refers to as his lost weekend - a weekend that lasted twenty-three years, dabbling in everything, overcoming a debilitating illness, and frequently changing jobs.
Now, hopefully at the end of his wilderness years, he has dropped everything to focus on his art, and is now regarded as one of the emerging talents in Irish art.
John has previously given demonstrations in oil painting to various societies and groups.
He has delivered talks on the life and work of Italian artist Amedeo Modigliani.
John is an accomplished musician and has also published two collections of short stories.