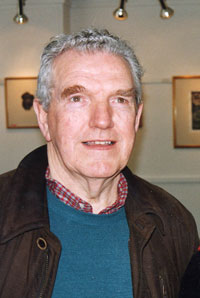 Patrick Copperwhite
Patrick Copperwhite was born in Helen Street, Galway went to St. Joseph's College and graduated from UCG with a degree in Science in 1959. He worked for a time with I.C.I. in England, and in mining in Zambia and South Africa, and as a teacher in Nigeria.
He returned to Ireland in 1965 and married two years later. He has two sons and two daughters. The entire family is interested in art.
Pat built his own studio/gallery onto their home. He did a great deal of work there, but much prefered to paint outdoors, especially in Connemara. His response to the landscape is immediate with a fairly rapid application of paint, sometimes in impasto fashion, using knife or brush. At other times he resorts to thinner, more tonal application of paint, using quick brush strokes to achieve the essential quality of his subject. Occasionally the unplanned and accidental fusion of pigments on the canvas gives a new exciting energy to the overall impression he strives to achieve.
Pat is primarily a landscape painter with a deep interest in portraiture. He has exhibited widely in group shows throughout the country. He is a former chairman of Limerick Art Society.
---
Solo Exhibitions:
RHA Dublin
Solomon Gallery Dublin (Gallery artist since 1984)
Limerick Art Society Event
The Belltable Arts Centre, Limerick
Mid West Touring Exhibition
Limerick Civic Week AIB Exhibitions
Dublin Millennium Exhibition
Goodwin Gallery, Limerick
Kenny Gallery Galway
Selected Group Exhibitions:
TSB Limerick
The Mellick, Limerick
The Belltable Arts Centre, Limerick
Renvyle House Hotel, Co. Galway
Boston Irish Week Exhibition
An Dámhlann, Spiddal