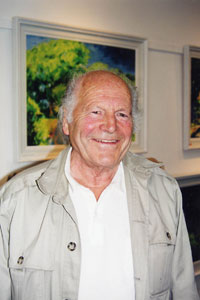 Sam Coulter
Sam Coulter was born in Kilnock, Co. Antrim in 1925. He studied Art and Design in Ballymena College with W.G. Grieves (German Senior Art Master) from 1941-1945.
Group Exhibitions: 1977-1981 - Ottawa, Montreal, Rawdon, Stittsville.
Returned to Ireland in 1981. He is influenced by the unique light in Connemara, where he paints regularly.
His paintings are exhibited in several galleries, of which include:
Arches Gallery, Belfast
Workman Gallery, Larne
Todd Gallery, Colerane
Atlantic Gallery, Kinsale
Kenny Gallery, Galway
D. Dowling Gallery, Clifden, Galway
McKelvey Travelling Exhibition, Ireland
Peebles Gallery, Scotland
Rennie Gallery, Morning Side, Edinburgh
His paintings are in private collections all over the world.
Sam also studied music and played the saxophone, clarinet and piano with show bands during the 50's, 60's and 70's.