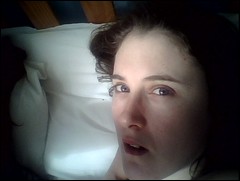 Jennifer Cunningham
Jennifer Cunningham was born in Galway in 1978. She grew up in an urban area and this has influenced her work. She graduated with a first class honours degree from GMIT in 2002 and was a guest artist with Artspace Studios until 2004. She specialises in copper etching and also paints. Her work is figurative with a strong narrative content.
"I specialise in the more traditional aspects of printmaking particularly etching. My work is figurative with a strong narrative content. I am looking at how people relate to each other, how they develop throughout childhood, and how they assume personae in order to fit into society. I use masks to represent the persona "There will be time to prepare a face to meet the faces that you will meet" (Eliot) and wings to represent the search for independence and autonomy. The wings are made out of cardboard, rather than wax and feathers. Cardboard may not melt, but what happens if it rains... Irish weather can be unpredictable. "The idealism of youth which drives one so hard is bound to lead to overconfidence. The human ego can exalted to experience godlike attributes but only at the cost of over reaching itself and falling to disaster. This is the meaning of the story of Icarcus, the youth who is carried up to heaven on his humanly contrived wings, but who flies too close to the sun and plunges to his doom. All the same the youthful ego must always run this risk for if a young man does not strive for more than he can safely reach he cannot surmount the obstacles between adolescence and maturity." C.G. Jung
Circa Magazine 2002: "The Royal Dublin Society has shared out euros by the bucket. At a ceremony last Friday, Catherine Marshall from the Irish Museum of Modern Art did the honours. Jennifer Cunningham of the Galway Mayo Institute of Technology shared the Taylor Art Award of €10,000 with Yvonne Lee from the Limerick School of Art and Design. Cunningham also won the €1,300 Higgins Travelling Scholarship. The RDS Printmaking Prize of €2,700 was won by Michelle O'Brien, also from LSAD.
Past winners of RDS Prizes have included Walter Osborne, William Orpen, Louis le Brocquy and Dorothy Cross. The RDS retains its agricultural roots with the accompanying exhibition: "The winners and a select number of entries will be on display throughout the Kerrygold Horse Show from Wednesday, August 7 to Sunday, August 11." The show later goes to the Church Gallery, Limerick Institute of Technology (Sept 27-Oct 25, and the University of Ulster (Oct 8-29 [according to the press release - a strange case of bilocation])."