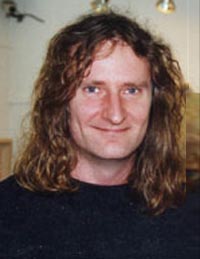 Sean Curley
Sean was born in Southport, Merseyside and moved to Dorset with his family in 1980. Whilst continuing to develop his art and before turning to art professionally, he worked in sales, travel, accountancy and music.

Sean has been painting since childhood, graduating from watercolours and other media to oil paintings in his early teenage years. He is, intentionally, entirely self-taught, wishing from an early age to develop his own style without too many outside influences. As a result of this, he has no academic qualifications appertaining to art preferring to develop his own style privately, whilst studying economics, business studies and accountancy at further education and university.

The first great influence on his painting came from his parents who encouraged him from an early age. His art teachers continued this encouragement. However when he moved to Dorset he chose to discontinue formal art studies, preferring to develop his own style largely as a result of his private studies of the History of Art.

He has always been receptive to feedback on his work from various art galleries in the south of England and also from friends and family. Partly as a result of this together with a love for natural beauty, he is concentrating on flowers as the main subject of his current work. Other areas he has focussed on include wildlife and portraiture.

Apart from art, his other great interest in life is music. He has played the guitar for almost 20 years, and has played many styles of contemporary music in several different bands.
Artist's Statement
"I draw inspiration from the beauty of the natural world, especially from the flowers growing in our beautiful garden and in the surrounding Dorset countryside. I also find a lot of inspiration in rural Ireland, from where hails my paternal grandfather. I also travel extensively worldwide with my daughter Andrea and this provides me with valuable inspiration and material for my paintings. From the flowers of Hierapolis to the coastal scenery of Mauritius, I have continuously drawn on this wealth of beauty."
Sean Curley
Sean exhibits with the Kenny Gallery in Ireland and with the following UK galleries:
Alexander Gallery, Bristol
Beaulieu Fine Arts, Beaulieu
The Chichester Gallery, Chichester
Chromatic Fine Arts, Swindon
Hunter Simmonds Gallery, Bournemouth
Hunter Simmonds Gallery, Poole
Inspires Gallery, Oxford
Montpellier Gallery, Stratford-Upon-Avon
Nevill Gallery, Canterbury
Nutley Gallery, Reigate, Surrey
Nutley Gallery, Barnes, London
Omell Galleries, Ascot
Peter Hedley Gallery, Wareham
St Martin's Gallery, Ringwood, Hants