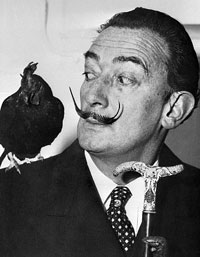 Salvador Dalí (1904-1989)
Salvador Dalí was an outstanding figure of the surrealist group of Andre Breton. He travelled and worked in Spain, France and the United States. He was one of the most brilliantly provocative artists of the twentieth century, not only in his public life, but also in his paintings and in the field of film, sculpture, photography and printmaking.
Dalí was a skilled draftsman, best known for the striking and bizarre images in his surrealist work. His painterly skills are often attributed to the influence of Renaissance masters. His best known work, The Persistence of Memory, was completed in 1931.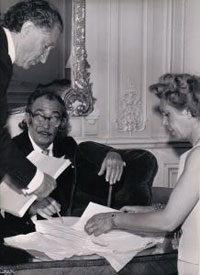 Dali signs for Pierre and Geneviéve Argillet
Widely considered to be greatly imaginative, Dalí had an affinity for doing unusual things to draw attention to himself. This sometimes irked those who loved his art as much as it annoyed his critics, since his eccentric manner sometimes drew more public attention than his artwork. The purposefully -sought notoriety led to broad public recognition and many purchases of his works by people from all walks of life.
This important collection of 21 original etchings by this master of the 20th century includes work from Dalí's long collaboration with French publisher Pierre Argillet.
Argillet was a publisher and photographer of great renown. As Dalí's friend and collaborator, he worked closely with the artist for almost thirty years. The etchings in this collection are from the 'Les Hippies', 'Faust' and 'Poèmes Secrets d'Apollinaire' series of the late 1960's and early 1970's.
Pierre and Geneviève Argillet met Dalí in 1959 to commission an engraved illustration for their first art publication. Their exceptional relationship with the artist led Dalí to engrave 190 different quality etchings for the French couple over 25 years, making them the top ranking publishers of his works. Argillet founded the Galerie Furstenberg in 1970 in order to promote their fine arts publications. During their collaboration with Dalí, they only commissioned copper etchings because Dalí would engrave these himself (not the case for lithographs). This exhibition represents a fine cross-section of this remarkable collaboration.