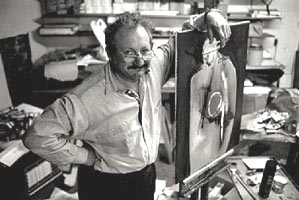 Gerald Davis, 1938-2005
"We had the privilege of hosting Gerald Davis's last solo exhibition in February 2005. He was a complete original, a one off, a Dubliner, a Jew, an artist, a Joycean, a raconteur, a gallerist, a jazz fanatic who founded his own recording company, irreverent, witty, loyal, wonderful company, a true friend. We loved him and we miss him. Ní bheidh a leithéid ann arís. Solas na bhFhlaitheas dá anam uasal dhilís."
Tom Kenny, July 2005
Born in Dublin in 1938, Gerald Davis had his first one-man show in 1962. Throughout his career, he had over 150 solo shows. His last solo exhibition was held in Kennys in 2005. His work was shown in major group exhibitions; The Royal Hibernian Academy, Oireachtas, Watercolour Society of Ireland, Aer Rianta etc.
In 1977 he was awarded the Douglas Hyde Gold Medal by the Arts Council and he represented his country abroad on several occasions. His paintings are in many important public and private collections. He is represented in the Irish Self Portrait and Watercolour collections in Limerick University.
In 1970 he opened his own gallery in Capel Street, Dublin where he pioneered the work of young Irish artists and craft-workers several of whom went onto be numbered among Ireland's leading practitioners. He started LIVIA Records in the late 1970s and produced albums by Ireland's most distinguished jazz musicians, actors and poets.
Gerald Davis visited Australia, the U.S. and Europe where he masqueraded as Joyce's Leopold Bloom and lectured on Irish art and literature. He wrote extensively for the leading national newspapers and broadcast regularly on Irish radio and television.
He died June 18th 2005
---
On Davis...
"Gerald Davis is a leading light in Irish contemporary painting. His abstracts ostensibly engage with landscape but also involve the human figure, or representations of the human that hint ambiguously at landscape images recalling the Celtic idea of the marriage between landscape and mortality. The use of painting and colour convey an intriguing sense of elements in flux. Restrained magic seems to be at work, and the tantalizing notion of other images suggested behind and within those Davis offers us."
Fred Johnston, Sunday Times, 1997
"The strange, dark, ancestral spectres which inhabit the constantly changing light of the landscapes of Gerald Davis, remind one of those tragic-comic voyagers who travel the work of Jewish artists in whatever idiom. Davis remains, in the amazing light of Ireland, indelibly Jewish, and his individual combination as Dublin as Ulysses and as Jewish as Bloom, is singularly at home in the important new movement which has manifested itself in Irish art during the last few years. There Davis's contribution as impressario is as impressive as his work as a painter; and again, the synthesis of talents is unique."
Wolf Mankowitz - Paintings For Bloomsday, 1977
"Every man has his own Bloom; and Bloom is Everyman. I see him as a contemplative sensualist, a drab visionary, a comic philosopher whose motive power is loneliness. It is loneliness that gives the richest resonance to laughter. The deepest laughter comes to us across an abyss. Born to be distorted, ignored, betrayed, Bloom shuffles through the street of consciousness, his destination, like his point of departure, a state of articulate perplexity which we might call wisdom. He is an exile, a seer, an accepting knower of mortality. A funny man.
Gerald Davis is a funny man too. He has the level-headedness of one sure of his creative power, at home with his own various forms of madness. He is generous, shrewd, alert, hard-working. Being a Dubliner, he speaks with a blade which, with unfailing wit, he calls a tongue. In spite of this I like a lot of his work. I have not yet seen his meditations on Joyce, but I know enough of Gerry Davis to realise that they come from the deepest reaches of his being, in a style that is Davis's own. Personally I wouldn't ask for more."
Brendan Kennelly - Paintings For Bloomsday, 1977