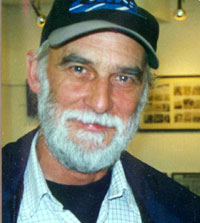 Dick Donaghue
Dick Donaghue is mostly a self-trained painter who draws his influences from all quarters of the profession. He is equally at home with Oils, Watercolour, Acrylic or Pastels. His paintings range from the figurative landscape to the purely abstract.
Before moving to Galway in 1980 he worked as a graphic artist in Dublin. In Galway he worked with community arts organisations before taking up full time painting in 1993. He was selected as Guest Artist with Artspace Studios in 1996 for their major exhibition in Lyon and Lorient, France, as part of "Imaginaire Irlandais".
Dick was Artist-in-Residence in Shannon Comprehensive School in 1989 and Guest Artist with Artspace Studios in Galway in '95/96. He has Exhibited twice in the Art Ireland Show at the R.D.S. and is a regular contributor to Kenny's.
He is featured in various collections including The Radisson SAS permanent collection; L'Embarcadere in Lyon, France; P.R. Krishna in Chennai, India; Galway Regional Hospital; Galway Technical Institute
"...Donaghue's work displays the temperament of a free spirit who paints as if he enjoys what he is doing and wishes the viewer to participate in the act. Not afraid to experiment, his is the art of the possible"
John Behan, Circa Art Magazine, '96
Exhibitions
| | |
| --- | --- |
| 2001 | The Art of Hurling, The Kenny Gallery |
| 1998/99 | Watercolours. The Little Gallery, Galway. |
| 1997 | "Translucenetx". A three dimensional, interactive, painting with Marja Van Kampen, for the Galway Arts Festival. |
| | Artists on CD. South Tipperary Arts Centre touring exhibition. Ireland, Austria and Slovania. |
| 1996 | "Imaginaire Irelandais" Lyon, May to July and Lorient, Aug/Sept. Galway, Nov. |
| | "Mosaic" Ceannt Railway station, Galway. Permanent. |
| | "Bealtine", Tralee. |
| | Town Hall Theatre, Galway, Opening exhibition with Artspace Studios. |
| 1995 | Galway Arts Festival with Dagmar Drabent, Germany. |
| | Toad Gallery, solo, acrylics and oils. |
| 1994 | Claremorris Open Exhibition. Oils on paper. |
| | The Kenny Gallery, Group show. Oils on paper. |
| | Pan-Celtic Festival Group Exhibition. |
| 1993 | Grainstore Gallery, Galway, Group Show. |
| 1988/89 | Leonie King Gallery, Galway. Etchings. Group Show. |
Artist in Residence:
St. Cainin's Comprehensive School, Shannon 1989
Guest Artist:
Artspace Studios, Galway 1996/7

Artsflight Award:
Arts Council of Ireland/Aer Lingus 1999

Collections:
M.G. Monet, L'Embarcadére, Lyon, France.
Fr. Griffin Road, Technical College, Galway.
Mme. Christine Kollfrath, Paris, France.