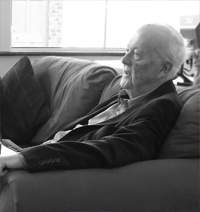 Michael F. Downes
Michael Downes was born in Cork in 1937. Having graduated from University College Cork, he went to work in the commercial world but painting was always his first love. Eventually he decided to give up his business career and dedicated himself to being a full time artist.
This set him off on a journey as he began to explore his native county first; and later the West coast of Ireland in search of inspiration. It is no surprise then that the landscape should feature extensively in his work. He revelled in the challenges imposed by the ever changing moods and lights and colours of the countryside. His keen sense of observation allowed him to capture the magic of moving light on the landscape. He occasionally liked to zoom into his subject and found himself in awe of the layers of colour and movement he saw in wild hedgerows and gardens. There was a sense of peace - a timeless quality to his work.
He simply loved painting, and this enthusiasm is evident on his canvasses. He used a variety of media, watercolours, pen and inks, oils and acrylics and constantly experimented with textures and searched for new ideas and compositions.
Michael is represented in public and private collections.
He held a second solo exhibition in The Kenny Gallery in 2012. He is a former director of the Crawford Gallery, Cork.
Michael died after a short illness in March of 2014.