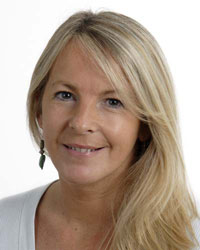 Karen Ebbs
Karen Ebbs was born in Dublin in 1962. She is a full-time professional artist living and working in Dublin.
Being surprised and excited by what is emerging on canvas is, according to Ebbs, the reason she loves to paint. She finds the process of "mentally stepping aside" totally freeing and it is for this reason she considers art as a pure means for linking what is visionary with the physical world.
In her work Ebbs explores the delicate balance and interconnectedness that exists in all of creation - between earth and the cosmos. As balance exists in nature so also does the innate need and desire exist within each person to evolve to a state of inner balance. Here Ebbs admits to being influenced by her previous work as a therapist.
Over the years she has developed her own unique style, blending traditional with new. The knife is accompanied by the brush to apply oils, acrylics, ground pumice, beeswax, pigments, ground crystals, gold leaf, bog oak slivers, all united on canvas and fabriano paper in an effusion of colour.
Throughout the last number of years, Ebbs has exhibited in many group shows and had her first very successful solo exhibition in November 2005. She shows her work in a number of galleries nationwide including Kennys Art Gallery, Galway, Gormleys Fine Art, Dublin, The Narrow Space Gallery, Clonmel, Co. Tipperary.and The Tramyard Gallery, Dalkey, Co. Dublin. Her works form part of the Art of the State collection and several public and private art collections. She was commissioned by the Office of Public Works to paint works of art for the Department of Social Welfare Buildings in Cobh - Cork and Tullamore Courthouse. Her work was also chosen by internationally recognised author, Paddy Francis (Paddy McMahon), as a cover design for his latest book 'Peacemonger'.