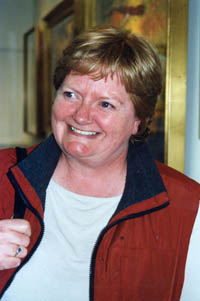 Geraldine Folan
Geraldine is a native Galwegian, hailing from Bearna, on the shores of Galway Bay. Geraldine's paintings are a response to the distinctive climate of the West of Ireland. She is exploring, both in large canvasses and smaller ones, the rapidly shifting weather patterns and changing light effects.
"Watching a stormy sea fills me with excitement, fear and most of all with respect. I have seen locally what the sea can do and its effects on the landscape after a storm and how it makes childsplay of our attempts to harness or control it."
The emphasis in her paintings is on the turbulence in both the sea and sky and the expanses of open space and distant horizons.
Recent Solo Exhibitions

April 2007
'Atlantic Edge' Lahinch Art Gallery, Lahinch
September 2006
Alte Honigfabrik Ibbenbüren, Germany
August 2006
Förderverein Mettinger Schultenhof, Germany
March 2006
'Under Atlantic Skies', Solo exhibition, The Kenny Gallery, Galway
June 2002
'Ag Siúl Cois Cladaigh', Solo Exhibition, The Kenny Gallery, Galway
March 2000
'Sky Larks', Solo Exhibition. Gallery 44. Cork
May 2000
'Elements', Exhibition in Ballina Arts Centre, Co. Mayo
May 1999
'Sky Larks', Solo Exhibition. 'An Damhlann' Kenny Gallery, Spiddal