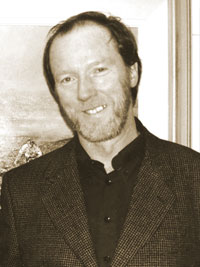 Paul Guilfoyle
Paul Guilfoyle has devoted much of the time since deciding to become a fulltime artist to the praise and glory of the locations of childhood family holidays spent in Conamara and West Mayo. The rest of the time he has spent exploring other parts of the country like Donegal, the Midlands, the Dingle Peninsula, and in the recent past... The Sceilig Rock off the coast of South Kerry. He seeks out areas that have the quality of spiritualizing their past and their present.
His evocative canvasses are closely observed and recorded with a searching eye. They are refreshingly unsentimental, never sombre and expressed with clarity and vigour. His firm and clean handling of the paint captures magic moments and a real feeling for the dramatic effects of light on nature. His studies of trees in sunlight have an almost impressionist liveliness in their broken lights. In spite of the great geographical variation in his work, he has managed to preserve his individuality and his highly identifiable style. He is a master of the bold and confident brushstroke.
Paul has exhibited widely throughout Ireland and is represented in many important collections. This is his seventh exhibition at The Kenny Gallery.
---
We left the pier in Ballinskelligs on a clear blue morning with sparkling seas. After some miles we sailed into the fog bank that enveloped the Skellig rocks and for the remainder of the day the visibility was poor. But the atmosphere... it was fantastic!. It had a mythic feel. We caught glimpses of the rock through dragging mists that poured down from the peaks. The sun was a dull disc above the darkened tops which occasionally lit the cliffs with a warm glow. This day brought me closer to the epic reality of that place than many clear-day visits before. It had a sense of the sacred and the savage, the magic and the melancholy and the ancient yearning to see God, an island of the sea and the sky where the spirit soared higher than the peaks.
For many the Skelligs are a spiritual experience that transcends religion and history. We experience it in our own way. This was my day.
While each show has a core, the surroundings remain the landscapes of the West. The weather isn't always pleasant here, the sun doesn't always shine. But when it happens it can take your breath away. These paintings are some of those moments.