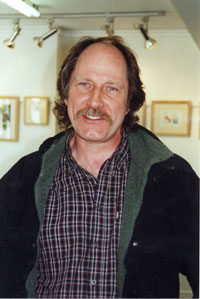 Barry Herniman
"I have been visiting Ireland for many years and each time I see the country in a different light. The weather is so changeable you have only to wait a while to capture a completely different scene. Over the years I have travelled quite extensively up along the coasts, and my favourite haunts are around the hills and coastlines of Connemara and Donegal. County Donegal, the most northerly county and for me it is one of the most magical. It has its own wild, rugged beauty, unlike the more manicured scenery of the south, and is still relatively unspoilt."
Barry Herniman was born in Middlesex in 1950.
He worked as a draughtsman and surveyor before immigrating to South Africa where he took up a career in advertising, having travelled throughout South America and the USA, Barry returned to England in 1980.
After two years at college, he was awarded a diploma in Information Design, and went on to become a member of the Charted Society of Designers in 1986.
In 1988, Barry set up his own graphics company. He has written articles for 'The Artist' 'The Leisure Painter' and also 'The Artist & Illustrations' magazines.
Barry's first solo exhibition of watercolours took place in Ross in 1991and in 1997 took up painting full time.
He won 'the Artist of the Year' award with S.A.A. in 2001 and gave workshops in Spain, Tuscany, Tenby, Wye Valley and New England in 2002.
Barry also completed a two-part video and notes entitled "Rivers Hills & Valleys I & II" which was released in 2002.
Solo Exhibitions:
Chase Hotel, Ross on Wye - 1995
Toronto, Canada - 1996
Birmingham University - 1998/1999
Beaver Gallery, England - 1999
The Art Centre, Worthing - 1990
The McGillaway Gallery, Derry - 2001
Group Exhibitions:
The Kenny Gallery, Galway
Tidal Wave Gallery, Hereford
Shell House Gallery, Ledbury
Fiery Beacon Gallery, Painswick
Parkfields Gallery, Lea
Travis Gallery, Pennsylvania
'Although favouring watercolours I also enjoy working in pastel, acrylic and recently mixed media, affording me wider scope to capture the light and drama of nature. Over the past two years I have been visiting Connemara and Donegal where the intense light and the dramatic scenery draws me back time and time again'