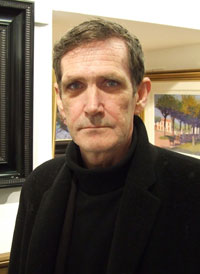 Ted Jones
Ted Jones was born in Dublin in 1952. Apart from early instruction from his father, Ted is a completely self taught painter. He was encouraged to draw from a very early age and has nurtured and developed his immense talent into a style, which is unmistakably Ted Jones. In truth his unique style probably owes a lot to the fact that he never attended Art College. His style has evolved uninfluenced and unencumbered.
Ted spent his early years serving in the army. The discipline of which has stood to him considering the time consuming nature of his work. Painting everything firstly in monochrome to ensure light and shade are correct, his figures are painted nude so that they are accurate anatomically only then are the clothing and colours built up in layers, painting almost everyday its no surprise that he produces less than 20 paintings a year. He also spent a brief time, as a pathologist's assistant in Trinity College Dublin, where he attained a substantial insight into anatomy.
He has led a colourful and varied life, spending time in France and England, however most of his life has been spent in the country of his birth, principally in Dublin and the more recent years in Killarney where his superb Dublin wit and interaction with the locals have by now indelibly etched him into the history of the town.
In 1998, demand for his work led to the publication of the first of a collection of Signed Limited Edition Prints, which have been hugely successful with over 20 titles published since its inception. In fact, demand has been so strong that many of the editions are completely sold out - some of these prints are now changing hands for 10 times their original price.
His first one-man show in 2005 sold out completely in a matter of hours hitting the headlines in many Irish newspapers. 2006 saw the publication of "A Life, Wrapped up" a signed limited edition book on his life and work.
His emotionally charged portraits of emigrants, his pub scenes depicting a sadly now vanishing era of Irish pub life and his sensitive and beautiful nudes are the treasured possessions of private collectors, investment houses and business institutions the world over.