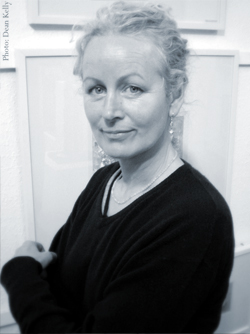 Valerie Joyce
Valerie Joyce is a Clifden born artist who has trained in fine art painting in the National College of Art and Design, Dublin and in Drama and Theatre Studies in the RTC Inchicore.
As an artist she explores painting, sculpture, performance and installation. Valerie makes work with whatever medium her ideas lead her to use - oils, watercolours, pastels, photography, video, poetry, currachs, willows, potatoes, teepees, fire, water etc... Her artistic journey began in Conamara and has taken her to Munich, Sri Lanka, Saarbrucken and eventually back to Artspace Studios in Galway.
Her work is in the Irish Drawing Collection at Limerick City Gallery and in the Collections of Bank of Ireland, the OPW, the Galway Regional & Galway City Councils.Valerie was nominated for the AIB Galway County Council Arts Awards in 2005 and 2003.
"In the underworld of feeling sensation finds expression as the artist lives on fresh air! Learning to delve as deeply into so-called "limitations", finding an abundance of magic and treasures. A good belly laugh keeps you warm if nothing else!"
Exhibitions
2007
"Artspace 21", G.T.I. Fr. Griffin Road, Galway
2006
"Marriage" en Rose", Street Performance, Spanish Arch, for PROJECT 06.
"Sophia - The Garden of Bliss", Painting Exhibition with Anne Mc Manus, at Cafe du Journal, Galway.
"Banana Girl", Solo Stand-up Comedy Act, CUBA Comedy Club, Galway.
"Synchronised Flashing" Street Performance by Aideen Barry, Quay St. Galway.
'Goneril' in "King Lear" by William Shakespeare, Hawkswell Theatre, Sligo, Townhall Theatre, Galway, Glor Theatre, Ennis, Royal Theatre, Castlebar, Iontas Theatre, Castleblaney.

2005
"Flow", a collaborative exhibtion of art and music, with jazz singer Ellen Demos and Mike Nielsen (guitar) improvising music in response to the paintings of Valerie Joyce, Anne McManus and Ciaran McManus. Cherrylane Fine Arts Gallery, Greystones, Co.Wicklow
"Joyride" The Fourth Floor, Enso Live Art Event, Hynes Car Park , Umbrella Event, Galway Arts Festival
"Between Walls" Artspace Group Show, Norman Villa Gallery, for TULCA.
'Because he liked to look at it', in "Vagina Monologues" by Eve Ensler, Townhall Theatre, Galway.
"Seasfire" Installation for peace, with fire in currachs on the sea at Clifden Quay and Roundstone Harbour

2004
"UV Made Your Bed" night time, street installation with double bed
"Shift" Painting and sculpture show

2002
"Marriage en Rose" street performance piece with bride and groom
2001
"Spit fire" Skateboard video piece
1998
Established "Art in Heaven" Gallery in Roundstone, Connemara, Galway
1996
"Wavelength" improvised performance piece with music and painting
1994
"Rest with me in the Night Meadows" a land installation piece with forty teepees
1992
"Ichtys" one woman show at Galway Arts Centre
1989
"Showcase" Group Exhibition, Royal Hospital Kilmainham, Dublin
1988
"Process as Image" Group Exhibtion, Temple Bar Studios, Dublin


Awards
1989
Claremorris Open 3rd Prize awarded by Brian Fallon


Residencies
1993
Saarbrucken, Germany, Irish Arts Council


Bursaries
Arts Council 1991, 1992


Collections
Office of Public Works
The Irish Drawing Collection
Limerick City Gallery