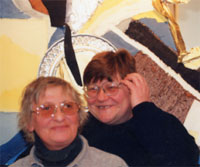 Helga Kaffke
Born in 1934 in Leipsig.
She spent 5 years studying at the University of painting and graphic arts in Leipsig. Helga has worked as a freelance painter and graphic artist for over 40 years painting mainly landscapes and portraits.
Helga now lives in Co. Mayo and spends most her time in the North West of Ireland (Connemara, Galway, Mayo, Sligo and Donegal) where she does most of her paintings of images she "sees with her heart".
Sometimes she prays to have a little more time as she has only seen such a small part of the world, "rough, lonely, breathtaking landscapes and human beings inside".
Helga has had many solo exhibitions in France and Germany and has partaken in group exhibitions in Germany, France, Italy, Poland, Russia, Sweden and Switzerland.