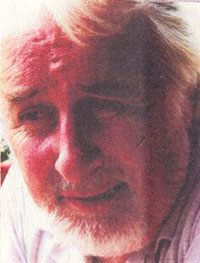 Rick Lewis
Rick Lewis was born in County Down. He moved to the U.K. and became a designer of fine bone China. He worked there and in New Zealand for many years, developing a worldwide reputation in the art of Fine China Sculpture. He returned to Ireland to work as a consultant with Royal Tara China. Several years ago he had a memorable one-man exhibition in the Kenny Gallery. In recent times, he has devoted himself to painting.
Rick Lewis A.R.A. is a unique talent to come home to Ireland. Rick has always been proud of his Irish roots and in 1992 fulfilled a lifelong dream to come home and establish himself amongst the elite of Irish artists. Initially, he shone as a professional soccer player - playing for Birmingham City and Oxford United - but as fate would have it, an injury ended his sporting career and sent him instead into the world of art.
In 1961 Rick joined Royal Worcester and met Harry Davis, universally recognised as the world's leading ceramic artist of the 20th Century, who discovered Rick's true talents. Over a period of four years, Harry took him under his wing, and Rick became the only apprentice with whom Harry was prepared to share his talent and artistic secrets in his twilight years.
Thus evolved an artist in the classical mould; gifted in painting in oils, watercolour and more uniquely porcelain canvases. Working with Royal Worcester, brought out yet another skill, in that Rick became renowned for his sculpting and design in porcelain, and bronze.
Amongst his myriad of achievements one stands out as unique. In 1971, the Nixon administration commissioned Rick to sculpt three sets of life size "Peace Swans". President Richard Nixon presented one pair, as a gift from the American people, to Chairman Mao, the Chinese Premier. The second pair was presented to Pope Paul and is on permanent display in the Vatican Museum while the third pair is on permanent display in the Metropolitan Museum in New York.
During his esteemed career in New Zealand, Rick sculpted a kingfisher for Lady Diana and Prince Charles, which was presented to them during their state visit to the country in 1983.
Rick was commissioned to create several other works of art as State gifts for many distinguished world leaders such as President George Bush, President Hillary and the King of Malaysia. He was also called upon to commemorate in bronze the achievements of Mark Todd, New Zealand's double Olympic gold medallist at the three-day event.
His most notable work for the people of New Zealand is his Kiwi which resides permanently in the "Beehive"; the centre of Government in Wellington. Now known as "Proud Kiwi", an image of this sculpture adorns gold coins produced by the New Zealand Mint. He was later presented with the M.B.E. and A.R.A. for his contribution to fine art and design in New Zealand.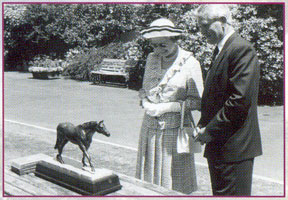 Queen Elizabeth has also collected Rick's work and in 1990 wrote to Rick to personally acknowledge her admiration of his work. She holds eight pieces of his work, which she prizes in her private collection at Buckingham Palace. The Queen Mother commissioned Rick to sculpt her grandson, Prince Charles, portraying his inauguration as Master of the Royal Order of the Bath. What sets this commission apart is that it was the only time Prince Charles sported a moustache.
Since Rick return to Ireland he has presented paintings to Presidents Mary Robinson and Mary MacAlleese. Former Taoiseach, Albert Reynolds, also received a presentation of an Arkle sculpture by Rick. He has painted and sculpted many different works for Knock Shrine including the new processional statue of "Our Lady" and completed a major Mosaic for the Church of Reconciliation. He has been an artistic consultant with Royal Tara for the last ten years.
Rick is available to complete commissions in a multitude of media for private or commercial collectors.