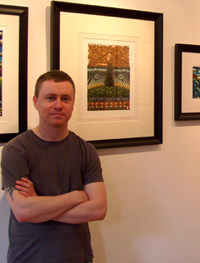 Connor Maguire
Connor Maguire was born in Belfast, Northern Ireland in 1977. A former pupil of De La Salle secondary school ,Connor attained all his exams at GCSE and A-LEVEL and continued on to study at the University of Ulster in Belfast then taking a year away from his studies to work and travel where he spent a period of time in New York working in the United States.
Returning home Connor has now been working steadily as a freelance artist specialising in Illustration, Ceramics, Website design, framing as well as working in every type of medium that is accessible to him in regards of painting and drawing. Connors paintings are inspired from anything ranging from everyday events, personal experiences, friends or family. He also frames and mounts all of his work.
After having his first solo exhibition in the Down Arts Centre in May 2003 he has continued to exhibit taking part in solo and several group shows alongside Ireland's most respected artists such as Shawcross, Blackshaw and Carol Graham. His work lies in many distinguished collections such as the Lisburn Civic Arts centre amongst others and has been praised by individual collectors and painters alike, including the artist Jim Fitzpatrick.
Connor's work has also been published by a Californian fine art company featuring in a book entitled "Creative Minds". Winning the Chairman's award in 2003, Connor has gone on to win the Stephens award, Anne Cheyne award and Carnathan galleries awards amongst others. He is the youngest member to gain membership to the Ulster Watercolour Society and exhibits on an annual basis with his paintings selling in each show. He has produced a limited edition range of work making his images more accessible to the public in the form of greeting cards and limited edition giclee prints.
After exhibiting in Hillsborough Castle he has received a letter from Prince Charles of Clarence house congratulating him on his participation and contribution to "The Prince's Trust" and success in the art world.
He has also been interviewed for many art magazine articles. He was contacted most recently by Red dot publications who are publishers of Northern Irelands top selling bridal and home magazine who wished to interview him as a main feature for their magazine "Northern Ireland Pure Homes" which can be seen in either the June /July issue 2008.He also has just recently had a personal interview with journalist Jenny Lee who has done a full illustrated feature on his latest work for "The Irish News" which can be seen in print on the 10/05/08.
He currently has a solo show entitled "A Collection so Far" which is displaying 14 pieces of his new work in the Down Arts Centre in Downpatrick beginning on the 8th May 2008 and will run for a period of 6 weeks until 21/05/08. He also has a group show with the UWS taking place in the Old Northern Bank building in the Cathedral quarter in Belfast on the 29TH May 2008.
Previous Exhibitions
UWS -The Gordon gallery -Derry Sep 2007
Ulster Watercolour society exhibition, Newry arts centre, 18th August 2006
Ulster Watercolour society exhibition, Holywood, 18th August 2006
Anna Cheyne award, Civic Arts Centre, Lisburn, 1st September 2005
Ulster Watercolour Society, Old Belmont School, church road, Belfast, 19th August 2005
Meath & Adelaide hospital, DUBLIN-Group Exhibition, 5th October 2004
The John Hewitt, Donegal Street, Belfast-solo exhibition, 5th July 2004
The Tile Refinery gallery - NIVAF exhibition 26th April until 8th May 2004
Belfast Harlequins Art Exhibition, Deramore park, Belfast - 21st until 23rd April 2004
The Tile Refinery gallery, Belfast - 23rd until 28th February 2004
Holy trinity centre, Belfast -20th until 21st February 2004
Wellington park hotel, Belfast - 18th February 2004
Armagh city Hotel - 4th December 2003
The Wickerman, Belfast- 5th November 2003
Hillsborough castle - 12th October 2003
Mullans bar, solo exhibition ,Downpatrick - 14th August 2003
Down arts centre, solo exhibition, Downpatrick- 28th May 2003
Upcoming Exhibitions
A Collection so far" Down Arts Centre-8th May 2008 Downpatrick, Co.Down, N.Ireland
Ulster Watercolour society" Old Northern bank building – 29th May 2008 Cathedral quarter, Belfast , N.Ireland
Achievements
Received letter of congratulations from Prince Charles as well as being published in the foreword of the Hillsborough Castle exhibition catalogue
Work published by American Art publisher to be featured in book "Creative Minds" December 2004
Awarded membership to the Ulster Watercolour Society August 2004
Work in collection of Island Civic Arts centre, Lisburn
Work in collection of famous Irish artist Jim Fitzpatrick
Interviewed and featured in magazine "Northern Ireland Pure Home" June 2008
Full illustrated feature Irish News 10/05/08
Northern Ireland Culture website magazine Full feature 15/05/08
Awards
Awarded Down Chairman's Award March 2003
Awarded F.B Steven award August 2005
Awarded Anna Cheyne award September 2005
Awarded Carnathan Galleries award, UWS August 2006