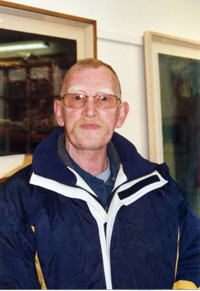 Fran McCann
Born in Belfast in 1945, Fran grew up in a large working class family. From an early age he displayed a remarkable talent for drawing and his first piece which was drawn at the tender age of five is still exhibited in his old primary school. He learned a trade as a bricklayer but his real passion was for art, this became manifest in every aspect of his life.
Fran is a great lover of music and this has provided much of the inspiration he needed for his own work. Musicians such as Jazz legends Myles Davis, John Coultrane, Barney Kastle and Kenny Burrell have been a big influence on him, as have Pink Floyd, The Chieftains, Led Zeppelin, Bob Marley, Ray Charles and especially Van Morrison. Morrison is a very special influence as he too grew up in the same era and surroundings as Fran and indeed they shared many special days together playing music in Belfast in the early 1960's.
He is versatile, and constantly experimenting, and has produced work in pastels, oils, watercolours, wood, clay, as well as working in graphic design, animation and commercial advertising. He has held a number of exhibitions in Australia and Ireland. He runs a very successful art school in Gort, Co. Galway.
Fran's first solo exhibition was held in The Kenny Gallery in 2005. The exhibition contained a series of musical images, smokey, atmospheric, cool confident, full of movement and colour. The rest of the show was made up of a series of journeys of the imagination.
Fran McCann has developed a highly personal and recognisable style, producing paintings of enormous energy and passion.