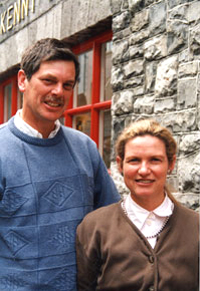 Sara Sue McNeill
Sara Sue McNeill was born in Belfast and educated at Battle Abbey & Milifield School, Somerset. She obtained a Diploma of Art in 1974 and completed post graduate study with Kenneth Webb and the Irish School of landscape Painting.
Elected Fellow, Irish School of Landscape Painting in 1975
Elected Member of the Ulster Society of Women Artists in 1977
Treasurer of U.S.W.A, 1989-1999, and Vice President from 2000 until 2003
Part-time lecturer with North Down & Ards College, and The Irish School of Landscape Painting.
She founded Ladybird Art Studio, in Donaghadee, Co Down in 1978, with a purpose built Studio facing the Irish Sea, where she provides professional training for painters in all media. She demonstrates in oils, acrylic, watercolours and mixed media, to various art groups and societies throughout the North of Ireland, and also the South and West of Ireland.
Sue has received various commissions for feature panels on public and private buildings including Bank of Ireland, Planards Limited, and John House London. She also has work in Private Collections in USA, France, England and Ireland.
Sue was awarded a two-week residence course at Tyrone Guthrie Centre, New Bliss Ireland. She was also invited with 11 other members of the Ulster Society of Women Artist, by The Women Painters of Washington, to exhibit in a Millennium Exhibition in Seattle.
Exhibition History
Solo Exhibitions
| | |
| --- | --- |
| 1990 | Cork Arts Society, Cork |
| 1990 | Kenny Gallery, Galway |
| 1994 | Kenny Gallery, Galway |
| 1995 | Jonathan Swift Gallery, Carrickfergus |
| 1997 | Kenny Gallery, Galway |
| 1999 | Kenny Gallery, Galway |
| 2002 | Kenny Gallery, Galway |
| 2005 | Kenny Gallery, Galway |
Group Exhibitions
National Society, London
Celtic Charisma, Mall Gallery London
Royal Ulster Academy, Belfast
Ulster Society of Women Artist
The Stables Gallery. Ballymoney
The Bell Gallery Belfast
Malone House Belfast
The Jonathan Swift Gallery Carrickfergus
Gilmore Gallery, Holywood
Gallery 148, Holywood
Kenny Gallery Galway
Combridge Fine Arts Dublin
Millars Gallery Cliften
Cill Rialaig, Ballinsikelligs Co. Kerry
Gormley's Fine Art Belfast
Solo Art (Irish &European Art Dealers)
James Gallery Dublin
Clifden Antiques and Art
Hughes Gallery Portstewart Belfast
Spiller Art Gallery Dublin
Stanford Gallery Dublin