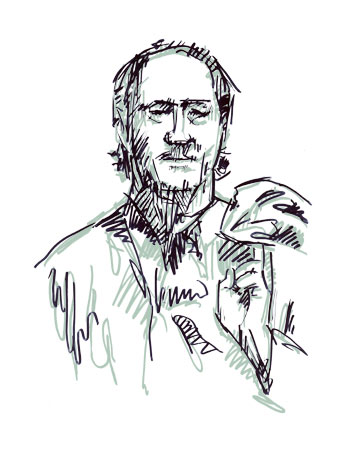 James Millar
James Millar was born in Belfast in 1945. Since 1972 he has participated in many group exhibitions and from 1974 held several one man shows in Ireland and abroad. He was commissioned to illustrate the 250th anniversary publication of Gulliver's Travels by Appletree Press in 1976. The Arts Council awarded him a bursary for his work in 1989. Having studied the works of leading psychologists, his work generally deals with what he feels are the human need for spirituality and religion. His style is both original and elegant as he uses sensitive lines, usually in stark white on a black ground.
"I have always been interested in the grand themes of life, death, birth, re-birth, resurrection, vulnerability, sexuality, religion and mythology. These themes stem from being deeply influenced by reudian and Jungian theories. The subject matter is conveyed in a symbolic way and this usually takes a narrative form.
While I have painted large canvasses in the past, I have been an Artist-printmaker at the Belfast Print Workshop for the last 15 years and have concentrated on black & white images in Lino and Etching.
I deal with composition and space within each piece and enjoy the process of making these images while my artistic influences have been Picasso, Matisse and Poussin."