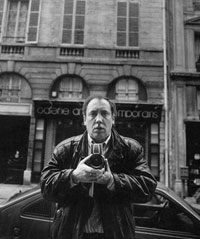 Self Portrait 1985 © John Minihan
John Minihan
John Minihan was born in Dublin in 1946 and raised in Athy, County Kildare. At the age of 12 he was brought to live in London, and went on to become an apprentice photographer with the Daily Mail. At 21 he became the youngest staff photographer for the Evening Standard. For thirty years he remained in London, returning every year to his hometown of Athy to record the people and their daily lives.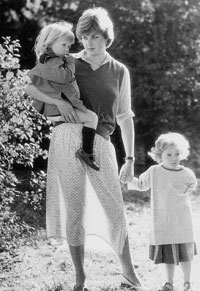 Lady Diana Spencer, London 1980
In between documenting Athy on visits home, Minihan continued his career on Fleet Street, which included the iconic snap of a 19-year-old Lady Diana Spencer in the garden of the nursery she worked at, the morning sun to her back, her legs in silhouette through her skirt.
Over the years Minihan developed a close relationship with many writers and his photographs of Samuel Beckett show a particular affinity between the two men. William Burroughs once referred to Minihan as "a painless photographer".

His friendship with Samuel Beckett produced some of the most remarkable photographs ever taken of the writer.

Among his numerous photographic publications are Photographs: Samuel Beckett (1995); Shadows from the Pale, Portrait of an Irish Town (1996); and An Unweaving of Rainbows, Images of Irish Writers, 1996.

He is currently a freelance photographer specialising in 'the arts'. His book of photographs of Samuel Beckett was published in 1995. His photographs of Athy have been exhibited throughout the world. He was given the freedom of Athy in 1990.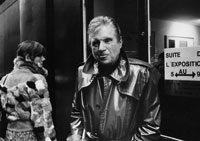 Francis Bacon, Paris 1977
Minihan's many exhibitions in museums and galleries around the world include the Museum of Modern Art, Rio de Janeiro, 1984; Centre George Pompidou, Paris 1986; the National Portrait Gallery, London 1987/8 and the October Gallery, London 1990 as well as the Guinness Hop Store, Dublin 1991.
John Minihan lives in Ballydehob, in west Cork.
---
"If you cannot see at a glance that the old game is up, that the camera has hopelessly beaten the pencil and paint brush as an instrument of artistic representation, then you will never make a true critic, you are only, like most critics a picture fancier"
George Bernard Shaw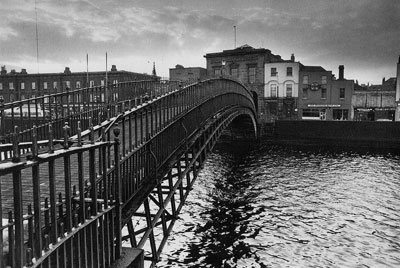 Ha'penny Bridge, Dublin 1964
---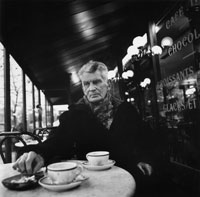 Samuel Beckett, Paris 1985
Background of Minihan & Beckett
John Minihan first made contact with Samuel Beckett when he was directing Endgame at the Riverside Studios in Hammersmith, west London, in the summer of 1980. A friend told Minihan that Beckett was staying at the Hyde Park hotel. He left a note for the playwright, rang the next morning and was put through.
"That was our first communication," says Minihan. Beckett's note read 'Mr Minihan, thank you for your note. I would love to see the photographs of the wake.' My first impression was of a gentle voice. He put me immediately at ease. I was used to photo editors bollocking me, so when I went to phone anybody I'd be a bit terrified. But here was this calming voice inviting me to come and see him.
"The following morning, I was told by the receptionist to go up to room 604. At the room, Mr Beckett opened the door with a smile on his face. He put me immediately at ease. He was dressed casually, wearing flip-flops. The room was a small one at the back of the hotel, overlooking the park.
"'We sat down and I showed him the photographs. He looked at each one for a long time, and asked me about the people in them. He said. 'These are important pictures.' At the end of the meeting, after half an hour, I asked if I could go down to the Riverside and take some photographs there. He agreed, so I spent the next few days at the theatre."
Beckett, says Minihan, was aware of himself as a photographic subject. "He had a great face for black-and-white and he certainly posed," says Minihan. "The first time I took out the camera in room 604, he posed. The way he held his glasses, for example, may look casual but was deliberate.''
Minihan also photographed Beckett in London in 1984, but pushed for another shoot the following year, in advance of Beckett's 80th birthday. "I don't think he realised, when we first met, that I had the tenacity to pursue him and maybe even become a bit of a pain in the arse." says Minihan.
Beckett agreed to meet Minihan in December 1985, but only, he said in a note, as long as he left his camera at home. "On the Saturday morning at 11, I rang the bell of his apartment and he came down," says Minihan. "I had sussed out a cute little cafe across from the Metro station, but he said no and walked me down to the PLM. I brought him over some whiskey - Bushmills. He was delighted with that. Sam was very chatty: he was always very animated."
Minihan gently pushed to do a picture, and Beckett relented, inviting him back the following day at 3pm. On the Sunday, he arrived at the cafe at two o'clock (the self-portrait shown here was taken earlier that day in the window of a shop) and took a table by the window, to give him the light he needed.
"He walked in on the stroke of three and when he saw me smiled: he knew exactly why I was sitting in that spot,"' says Minihan. "We had a few coffees and talked, and as the time went by I could see the daylight beginning to go. It wasn't until ten to five that Sam said to me, 'Would you like to take a photograph here?' Another five minutes and the opportunity would have been lost. Sam knew it and was tantalising me.
"I took the Hasselblad out. I had framed the picture in my head; I knew exactly what I wanted. But Samuel Beckett orchestrated that picture. As I focused the lens, Sam moved to stub out his cheroot. His demeanour changed immediately. It was as if I had ceased to exist. He moved his left hand down onto his knee and turned his gaze away."
Minihan took another few shots outside on the boulevard. The entire shoot comprised just six frames. "Sam just said, God bless, shook my hand and departed. I stood there overjoyed. I didn't know what I had got, but I knew it was good. When I got it developed, it was better than I had expected.''
ALL IMAGES © JOHN MINIHAN